Blog
Bredefleur Lilies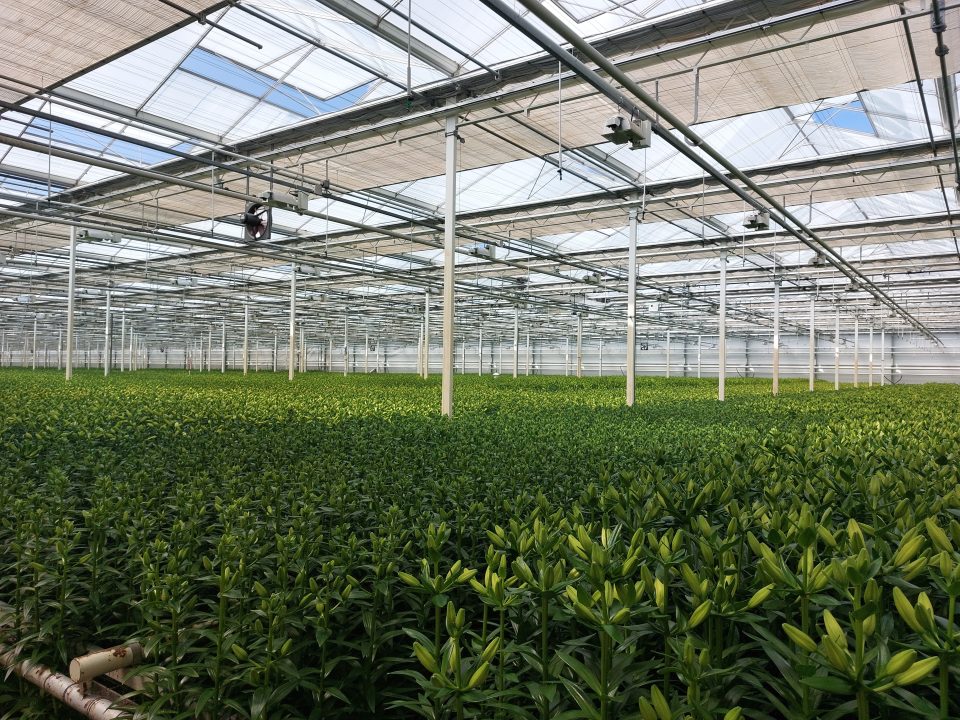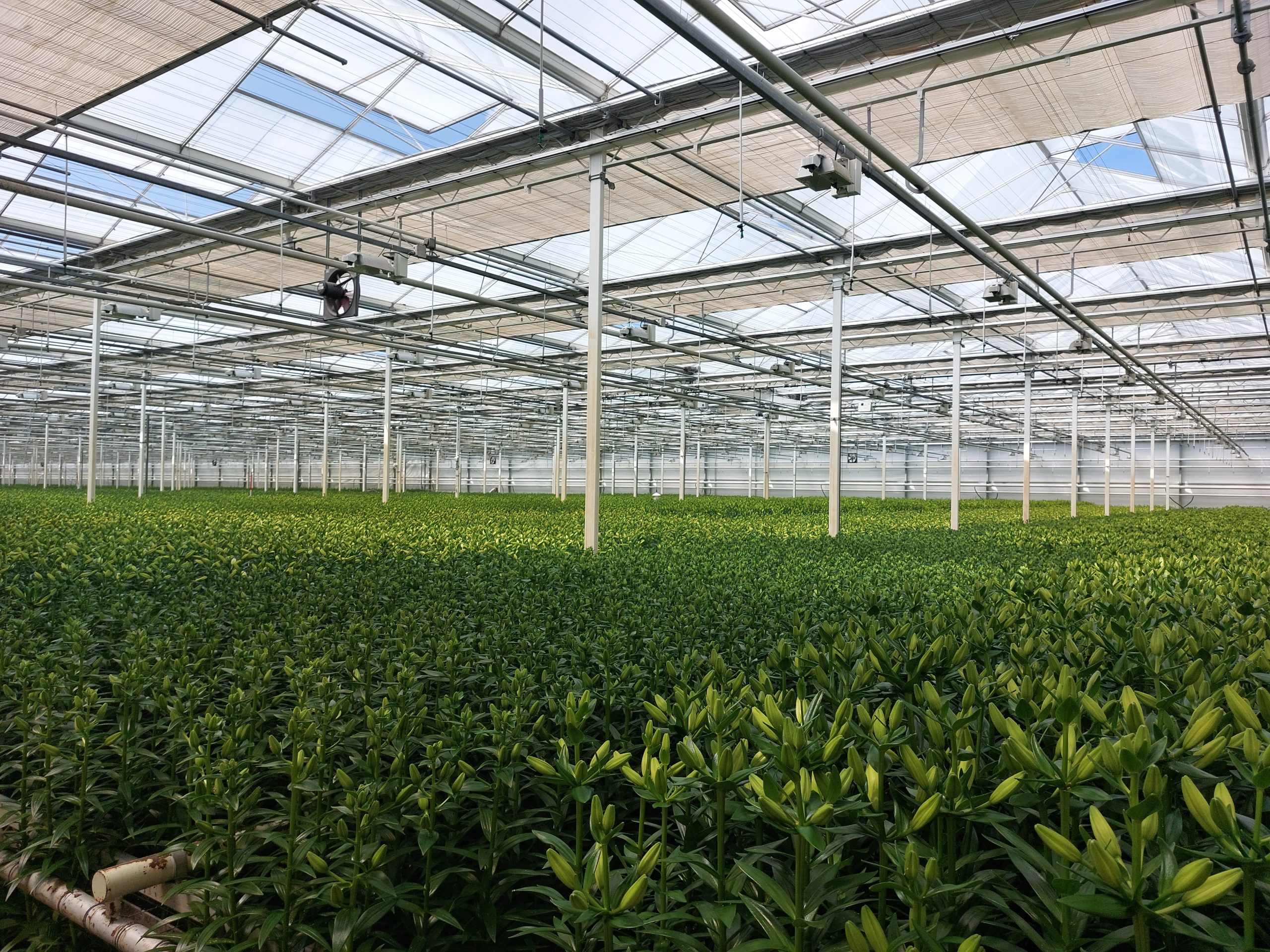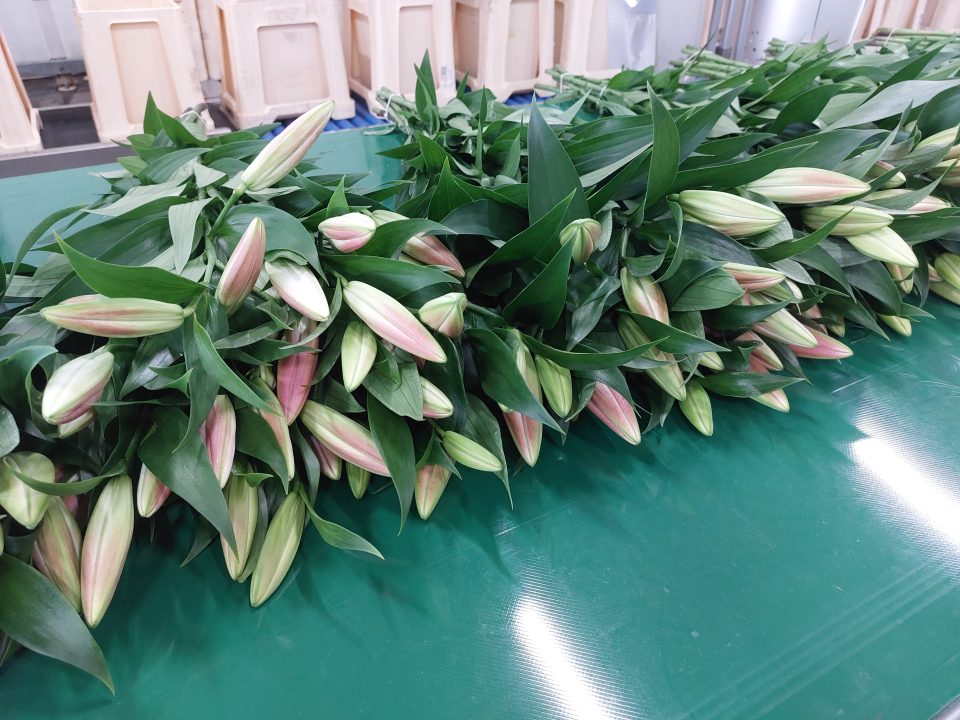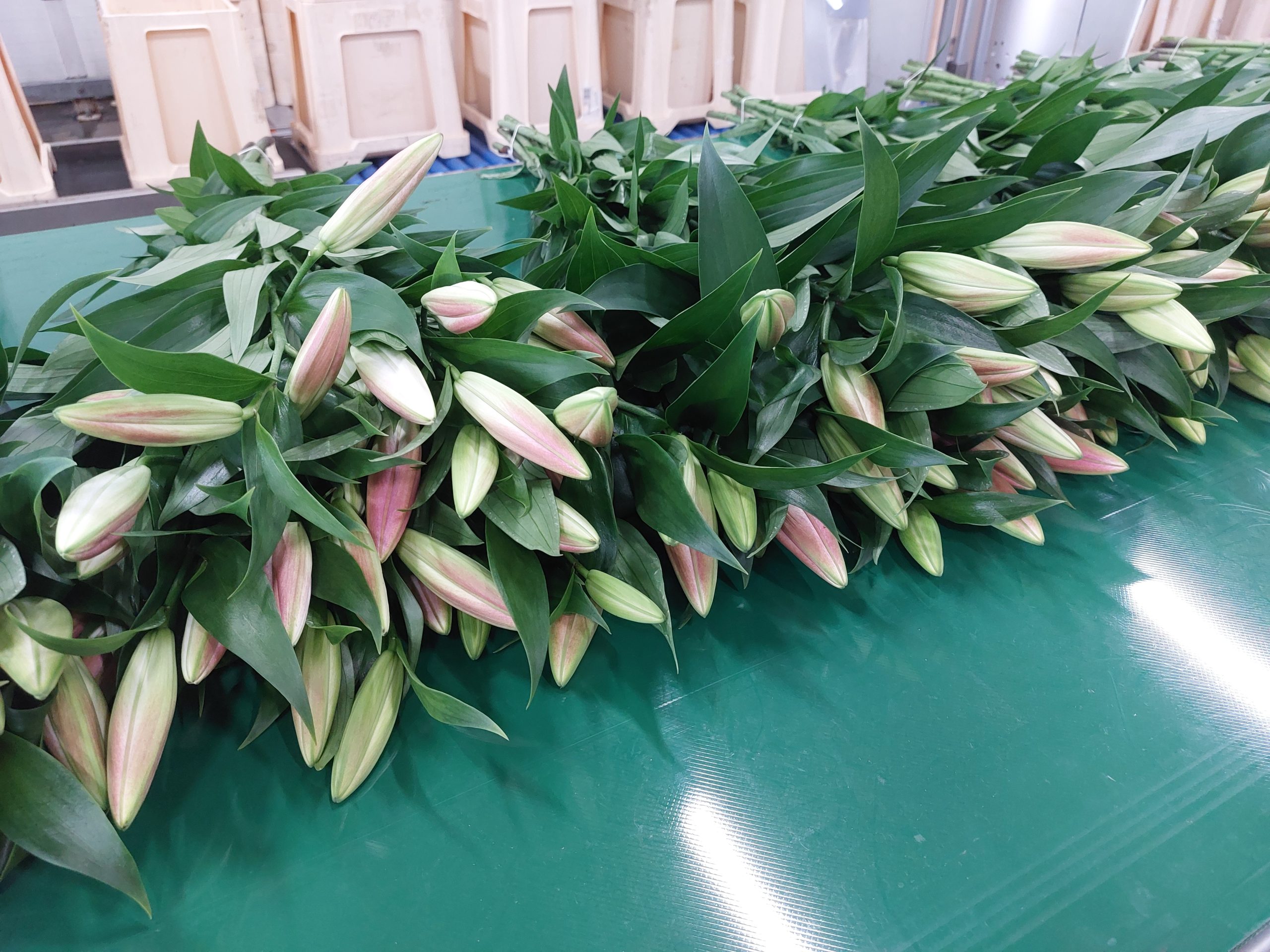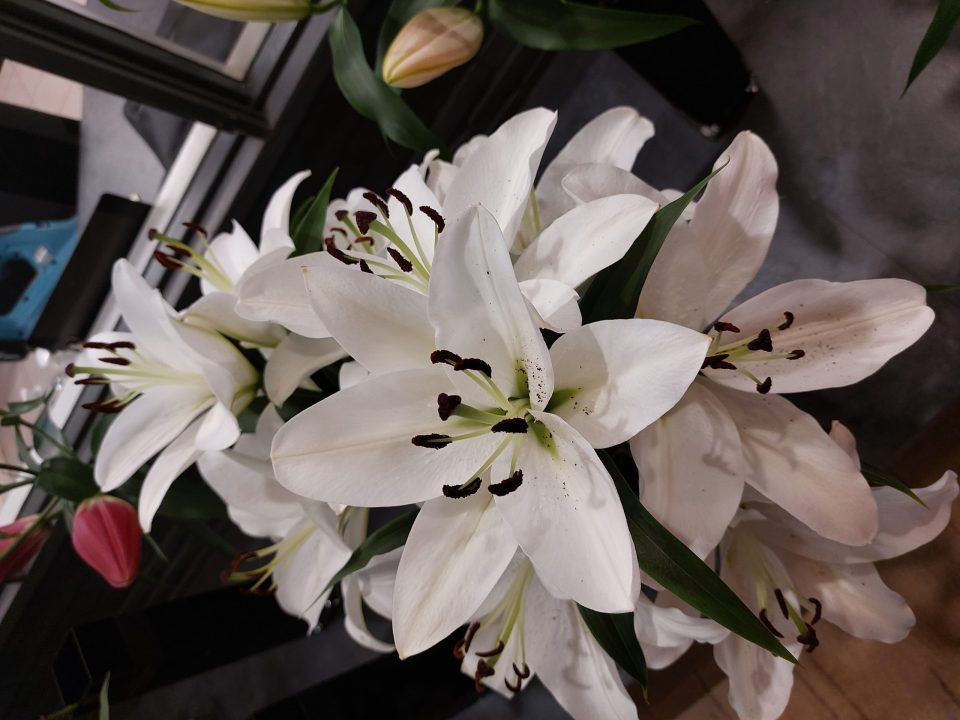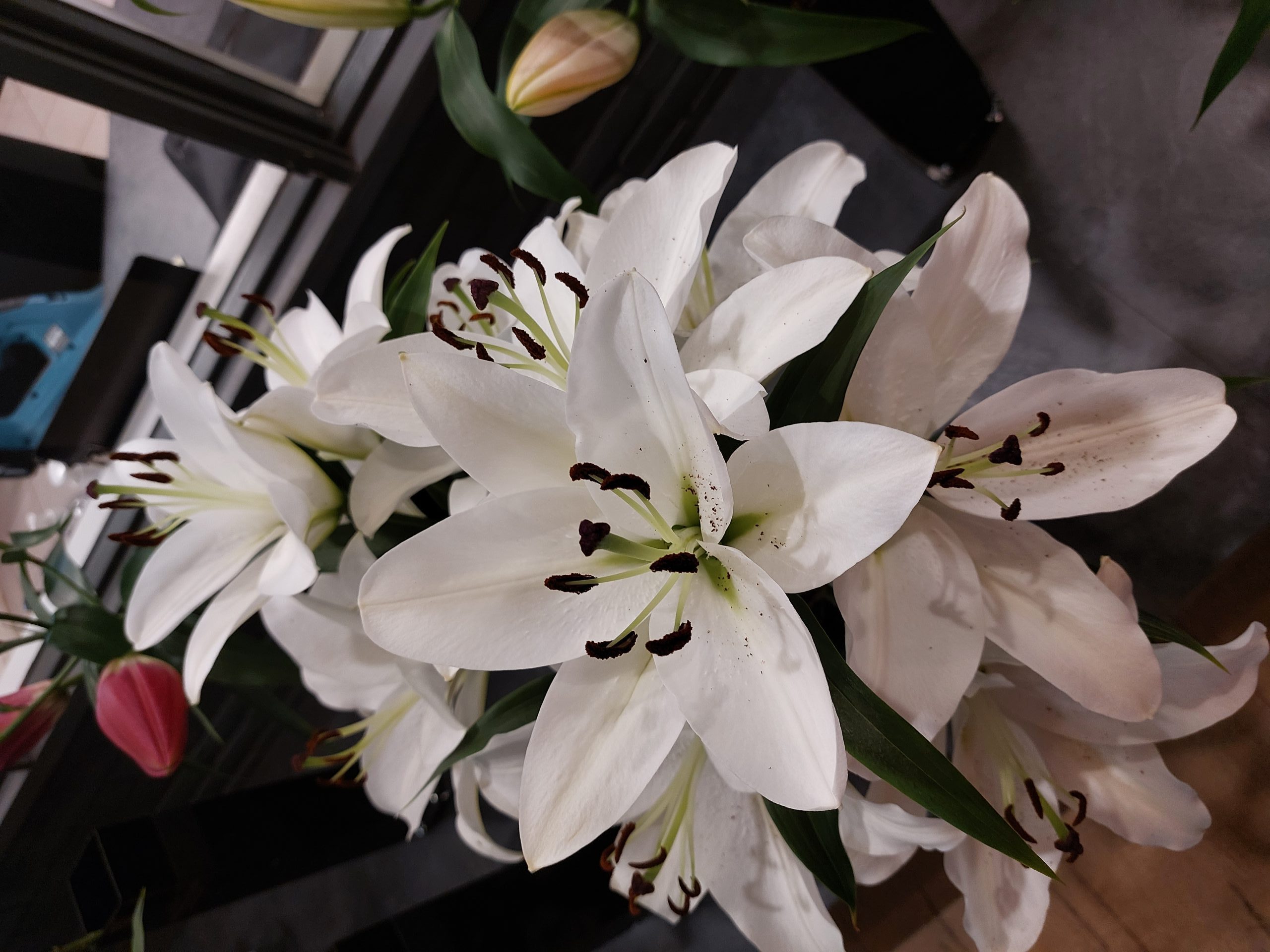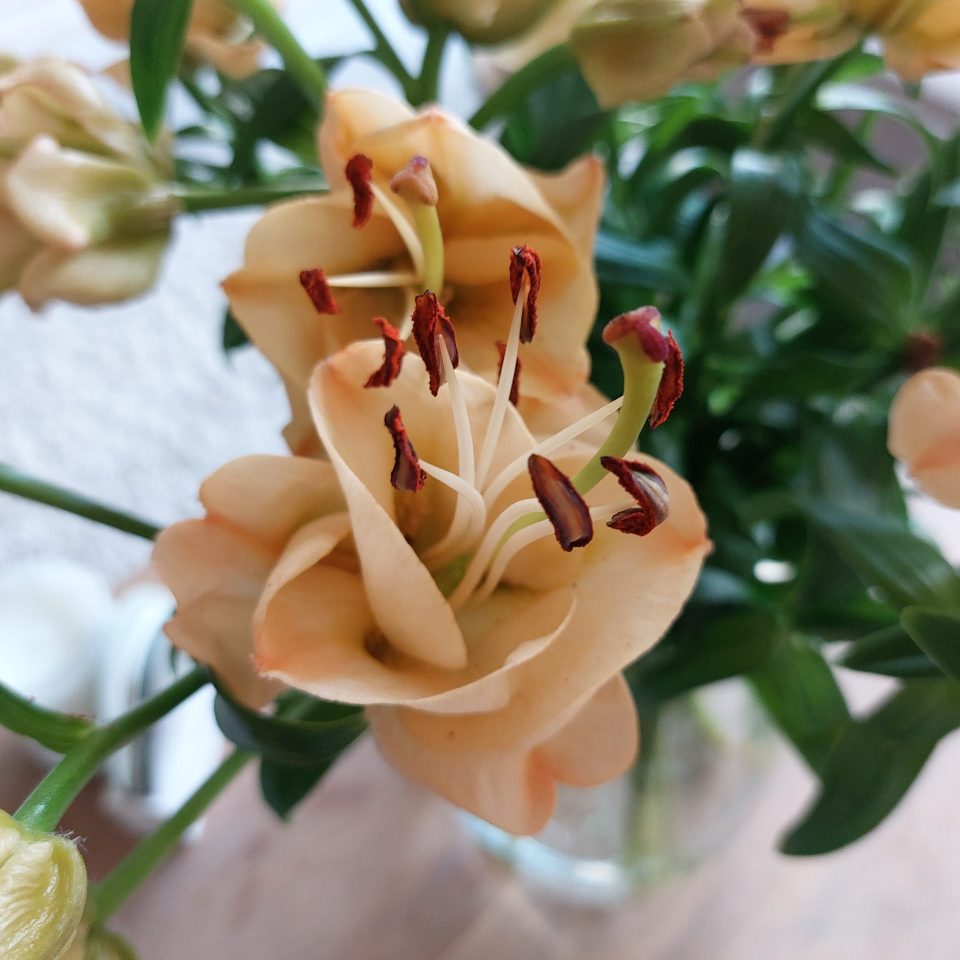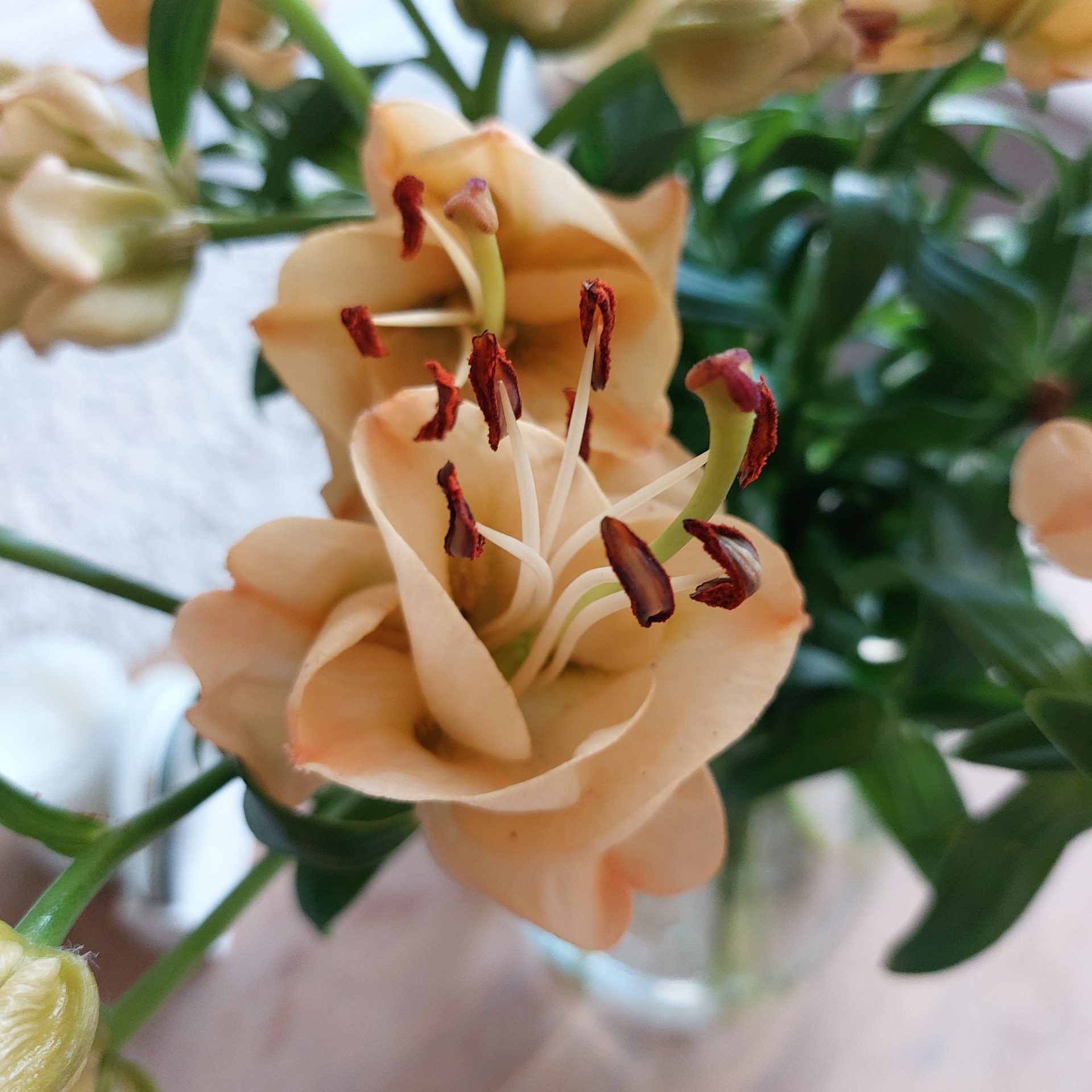 Innovation, Connection, and Inspiration
At Hukra, we handle and sell 525.000 stems of Lilies a year on average. Lilies are in our flower top 5, and therefore we need reliable partners who supply us with the cream of the crop. One of our top Lily suppliers is Bredefleur, who supply us with about 40% of the Lilies that we sell. Known for their outstanding quality, this grower produces a whopping 20 million stems a year.
With two locations in the Netherlands, this family company grows about 35 varieties of Lily in their greenhouses in Moerkapelle and Luttelgeest. The company is led by the brothers Peter, Levi, and Thomas. Each brother has their own responsibilities within the company, creating a broad and good base to work from.
Originally, Bredefleur's assortment consisted of only single flowered Lilies, but they recently acquired a new greenhouse in Moerkapelle, which allows them to experiment with the growing of double flowered Lilies as well. Double varieties require different conditions for optimal growth, and are often more suitable for growing in crates than from the ground. As this new greenhouse was originally designed for pot plants and has a container system, this allows for double varieties to be grown in crates, enabling Bredefleur to expand their assortment.
Lilies are a bulbous crop, and the bulbs get delivered to Bredefleur in crates. The bulbs are placed in a cooling unit at freezing temperatures for several days. This triggers the growth of the flower in the bulb. The bulb is then allowed to thaw, before being brought to the greenhouse for planting. The planting of the bulbs happens with the use of a machine, operated by one single person. The machine plants the bulbs in neat rows, so that every bulb has enough space to develop their flower.
Within 8-10 weeks on average a full grown Lily stem can be harvested. Bredefleur harvests their Lilies in a riper stage. This increases the vase life of the flowers. But it also makes sure that the Lilies can be enjoyed almost right away in the arrangements they are put in, as the flowers open a bit quicker.
Blog
Wans Roses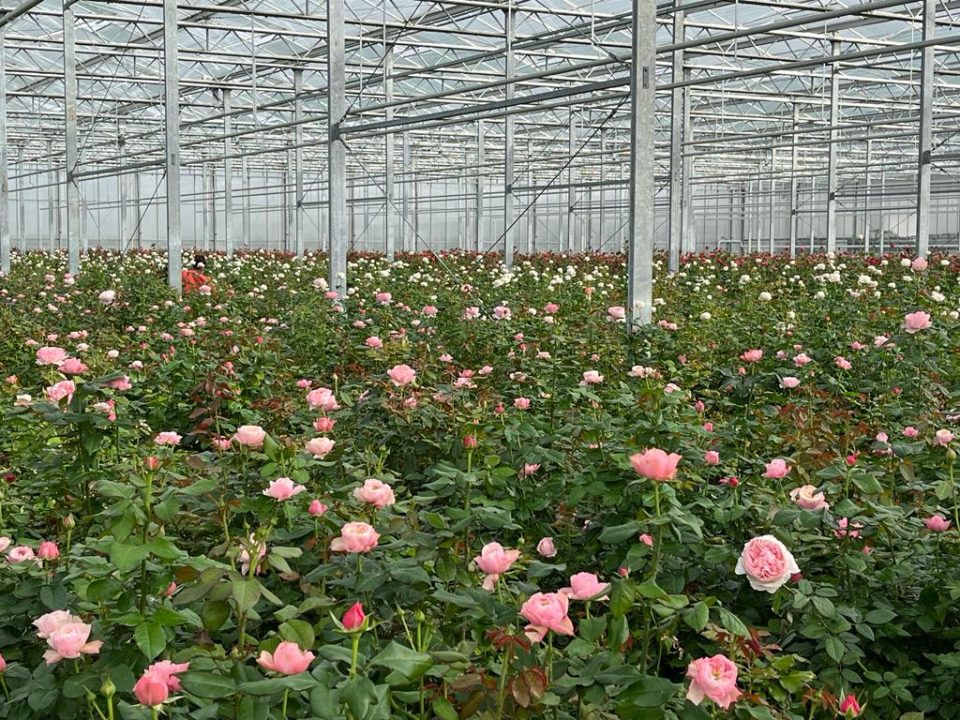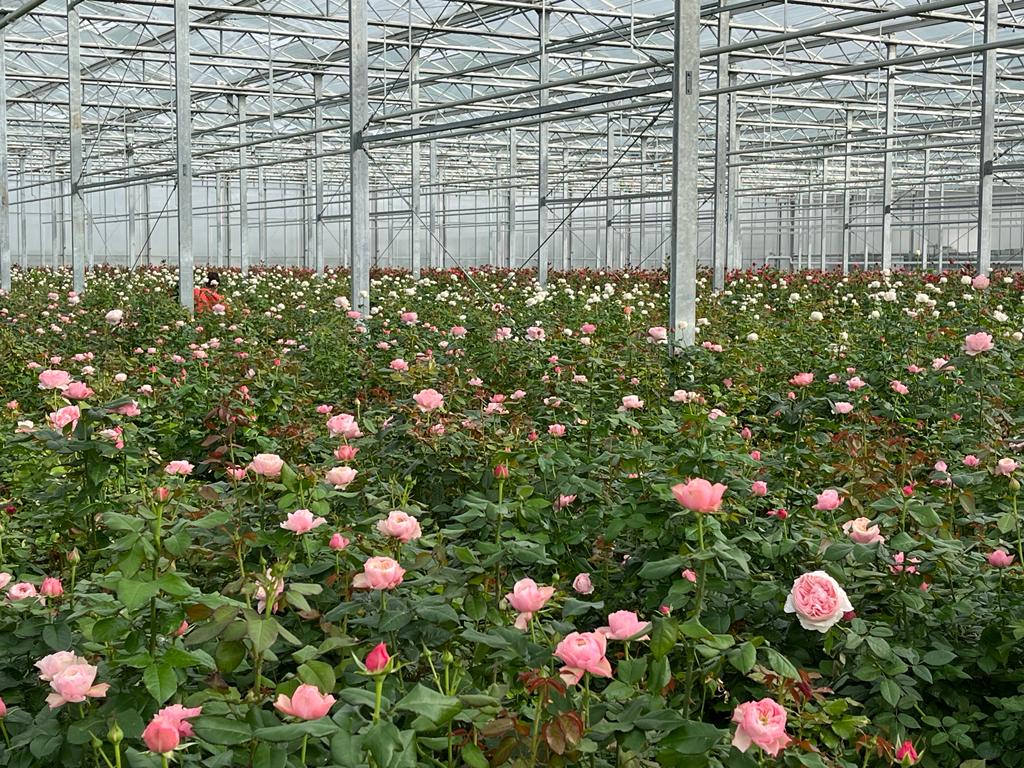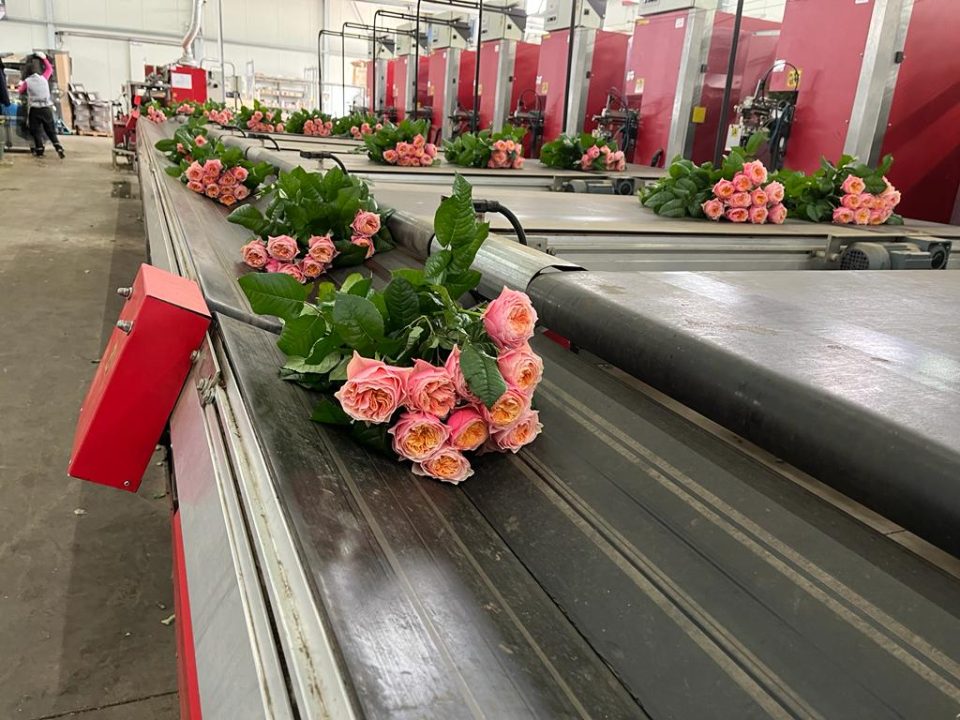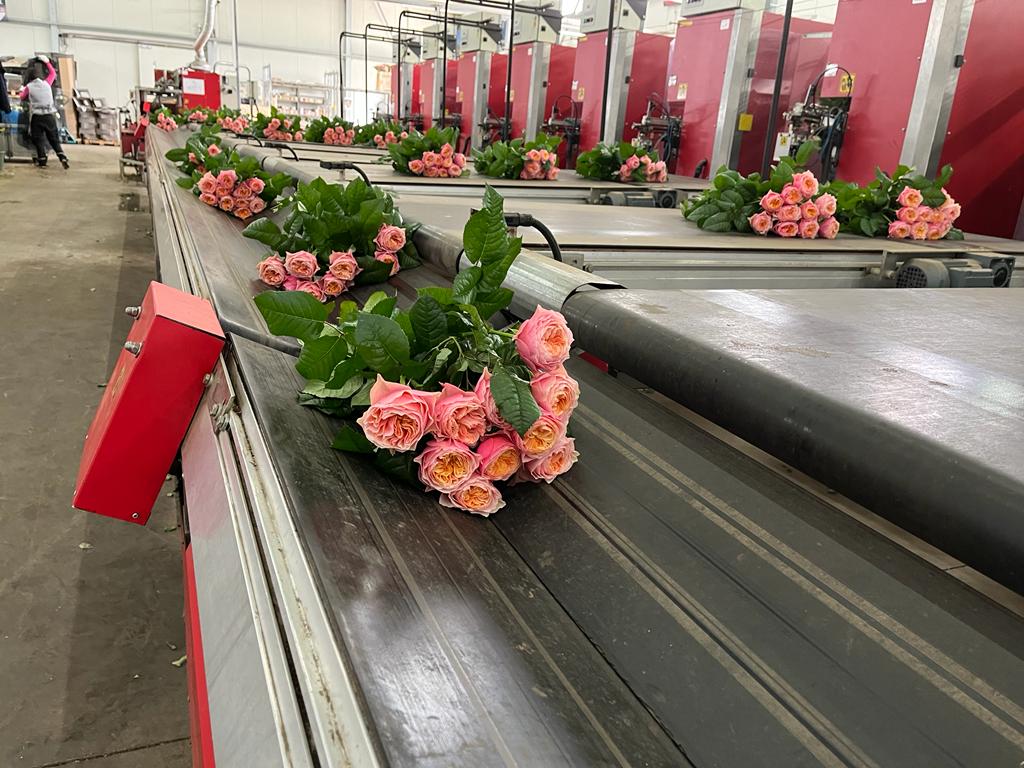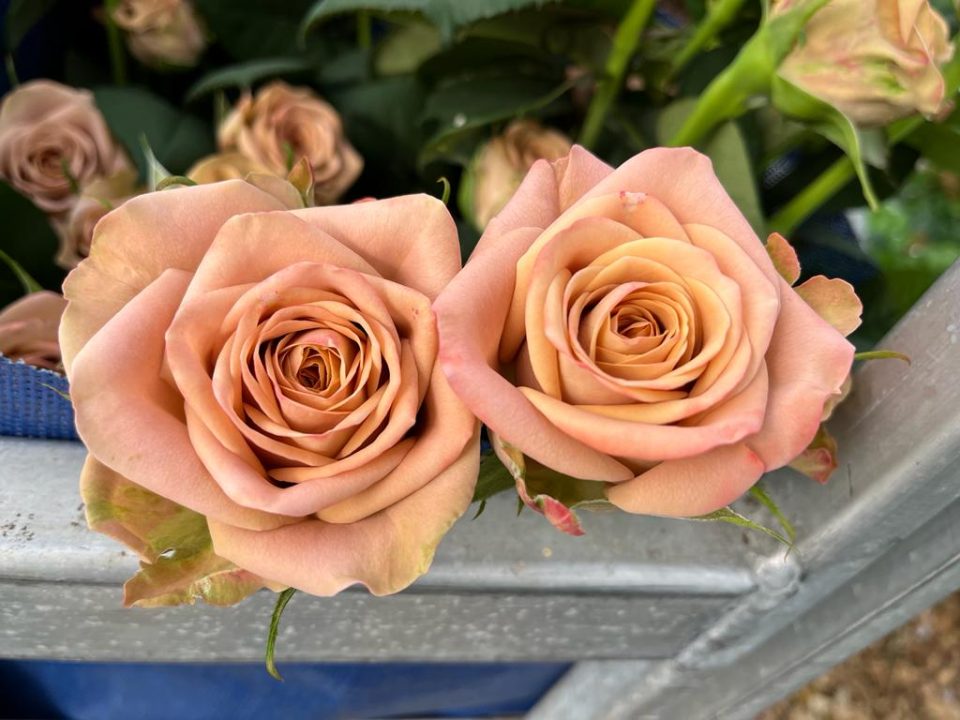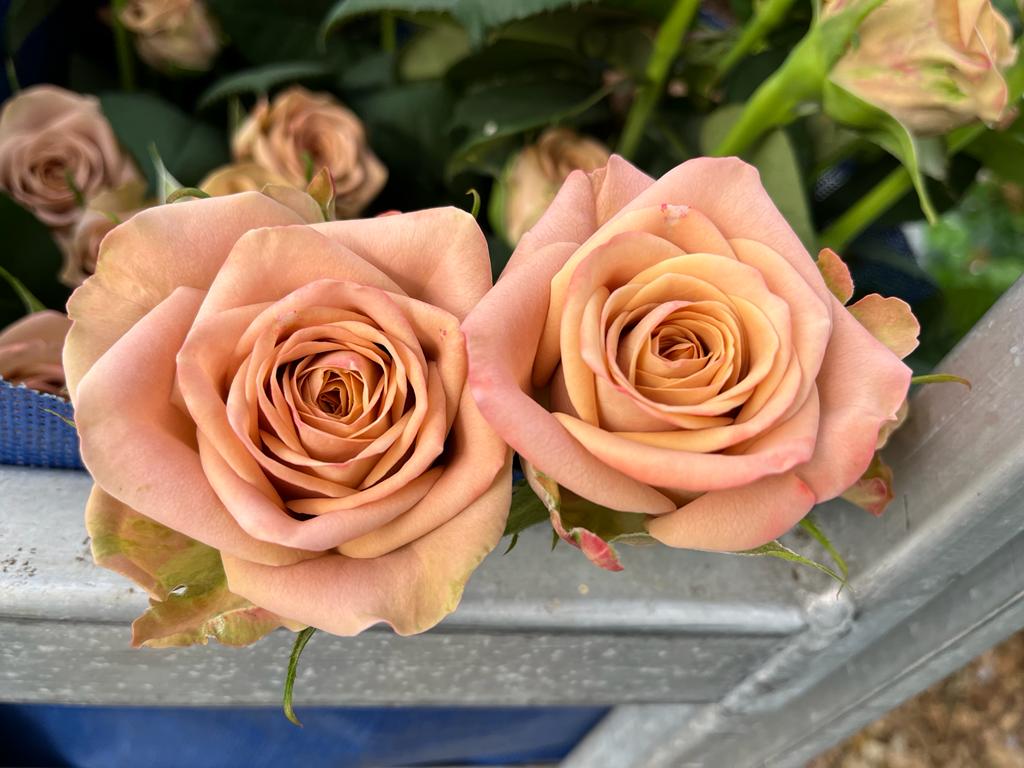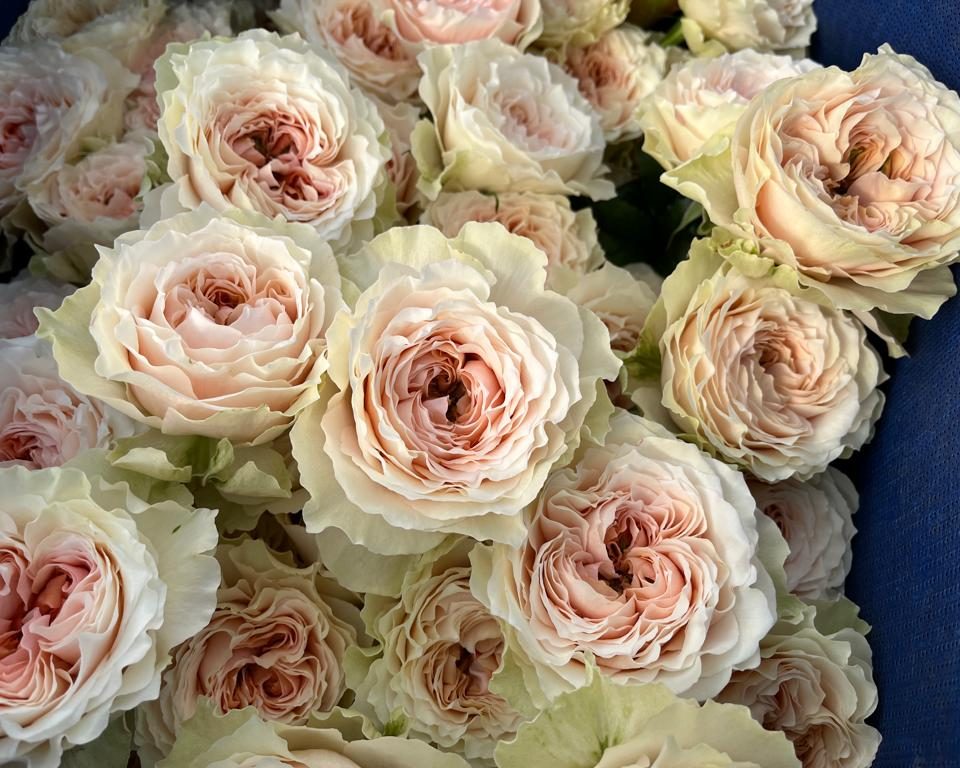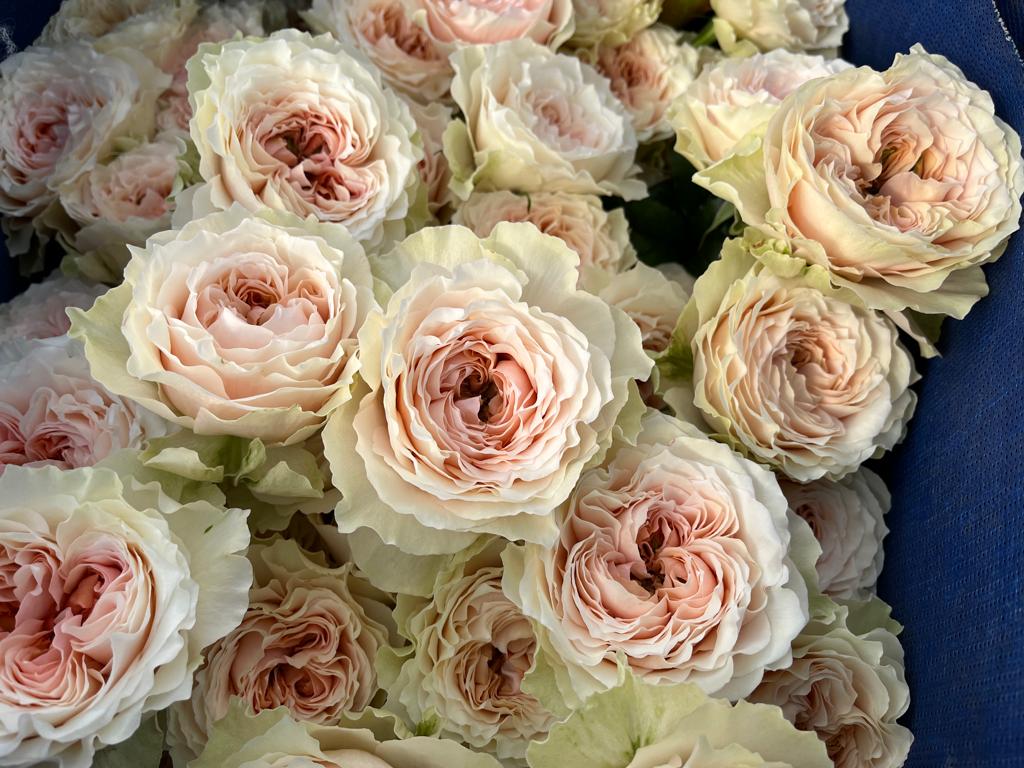 Royal Beauties
Who hasn't heard of Wans Roses? This family company, located in Straelen, Germany has been growing cut-roses since 1975. Since 2011 they specialize in English type garden roses, scented wedding roses, and roses with exceptional colours. Strictly seasonal, the roses are available from early March until the end of October. Wans' assortment contains thirty two varieties, which produce around 5.6 million stems a year, and are grown in a modern greenhouse, spanning 42,500 m² .
Last year, we had the opportunity to visit this fantastic grower and learned a lot about the process of how these beauties are grown. Wans Roses grows their roses in a sustainable and CO2-Neutral way. During the cultivation period of approximately five years, the rose plants grow in special coconut substrate on culture channels, which facilitates harvesting work. The greenhouses are heated with sustainable waste heat from three modern combined heat and power plants, which are operated exclusively with renewable energy resources. As of 2022 they also use a new wood chip boiler, whenever there are higher heart requirements. This way the company reduced their C02-emissions by 3,120 tons per year.
Blog
Groot&Groot Peonies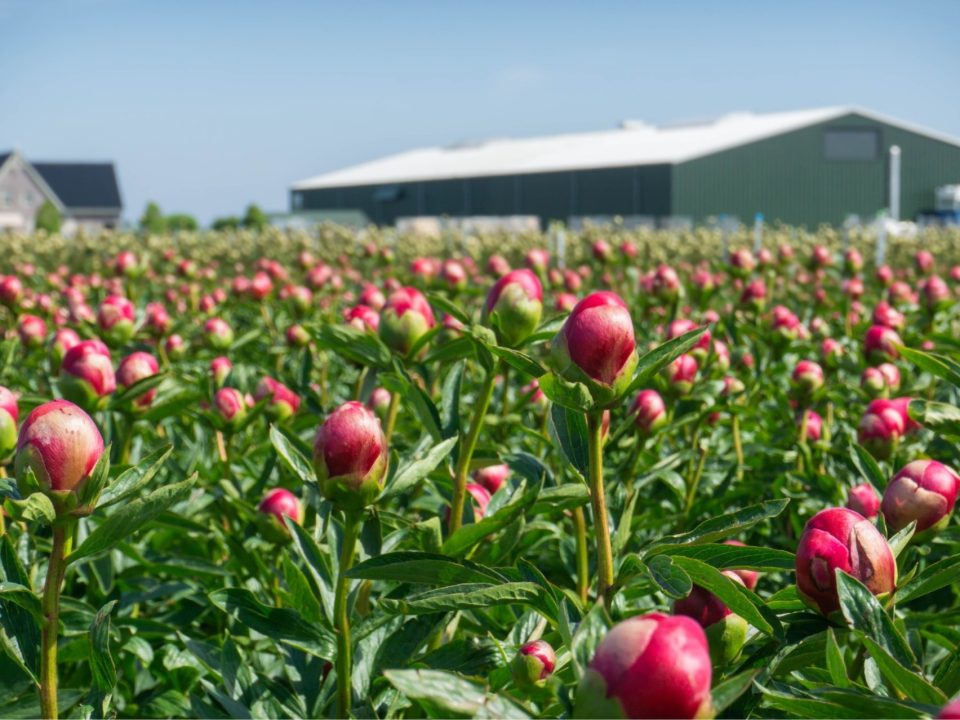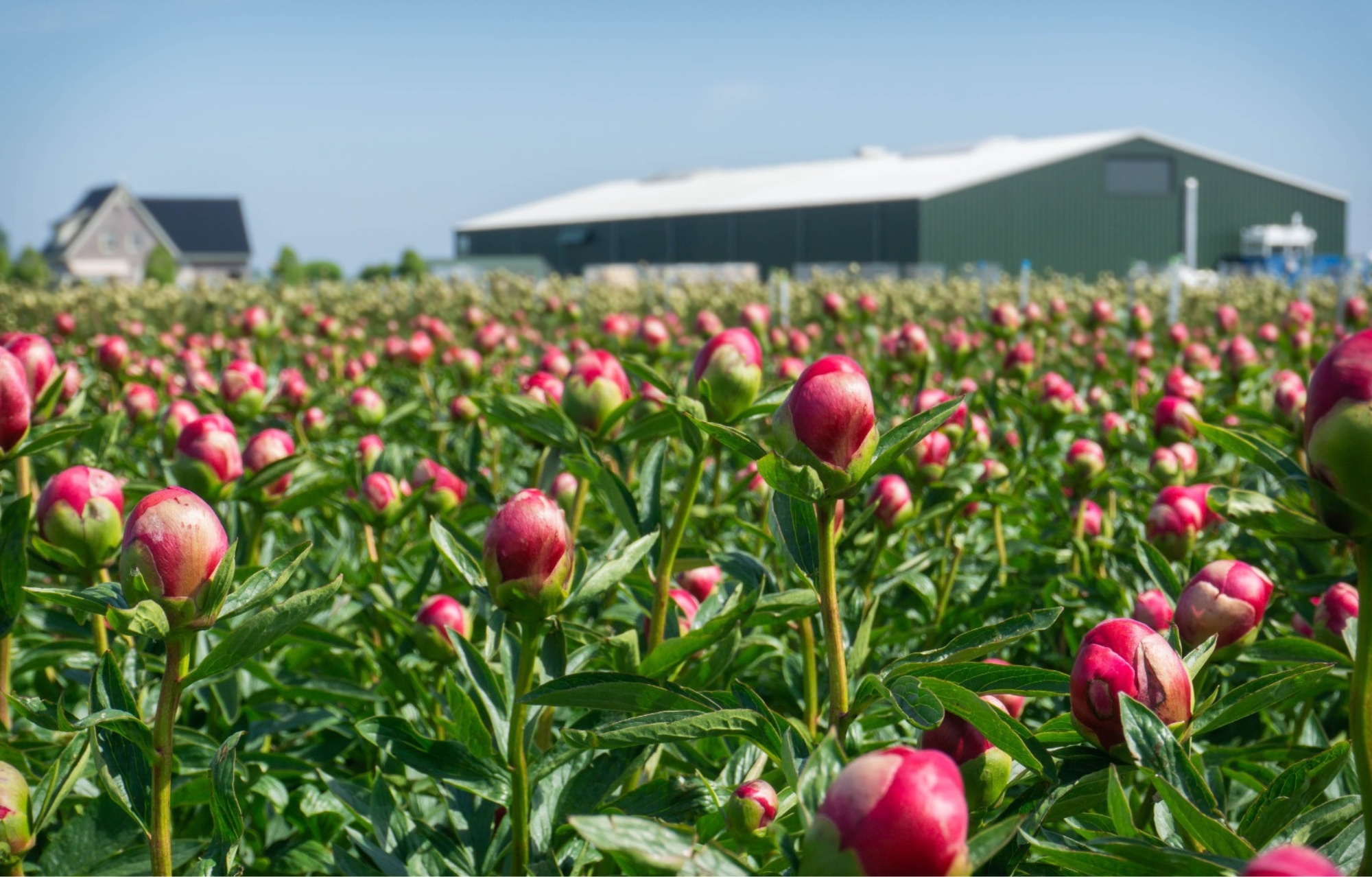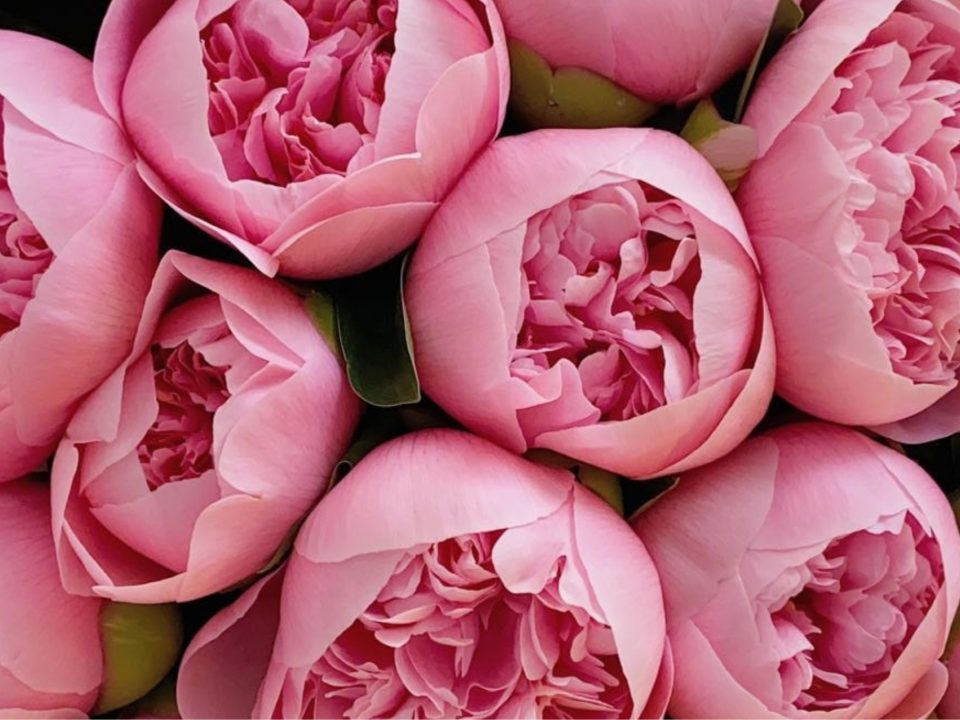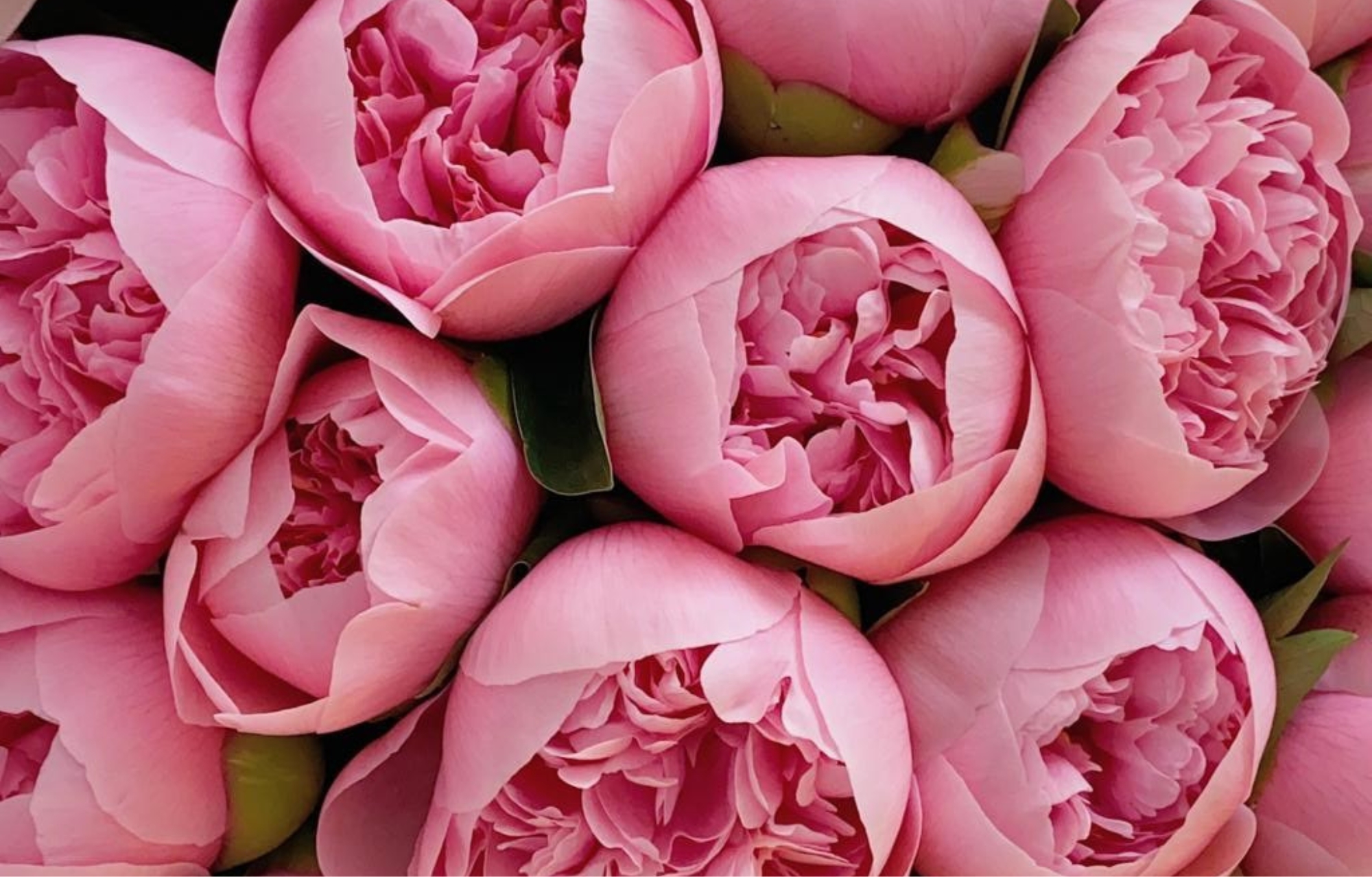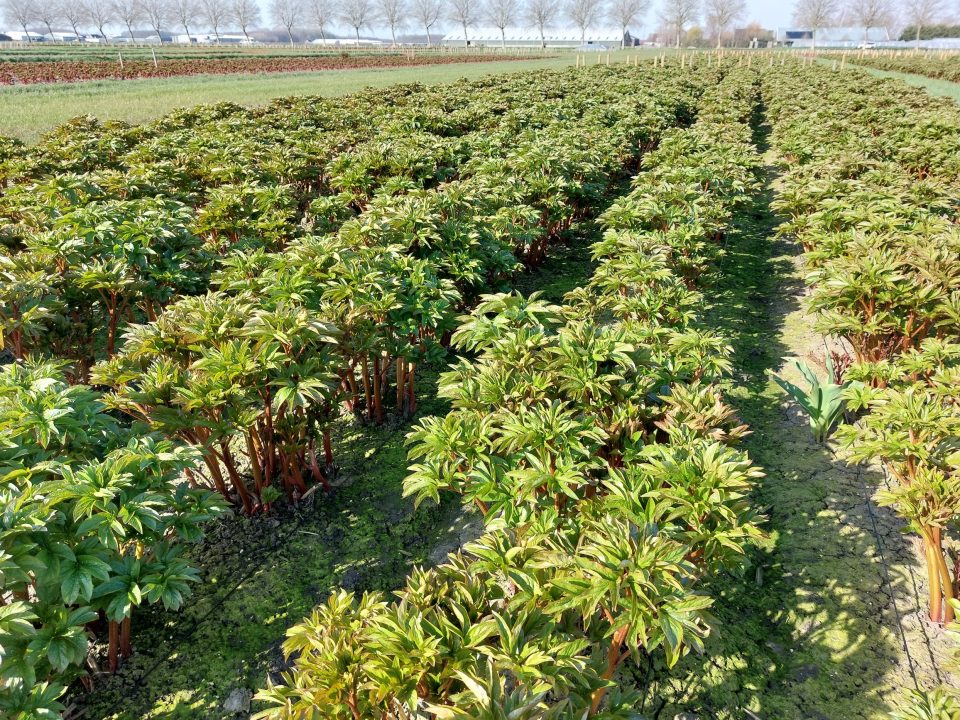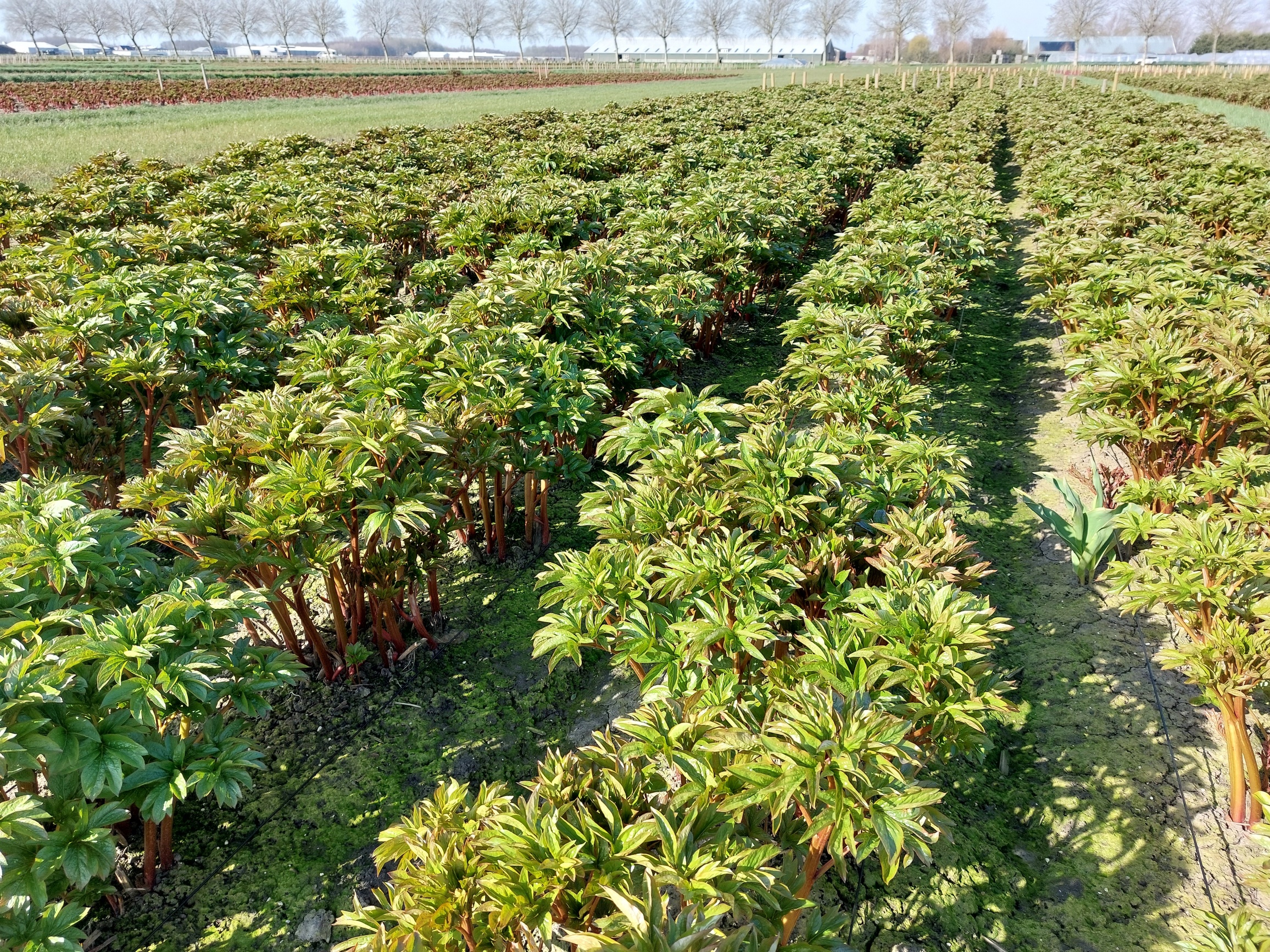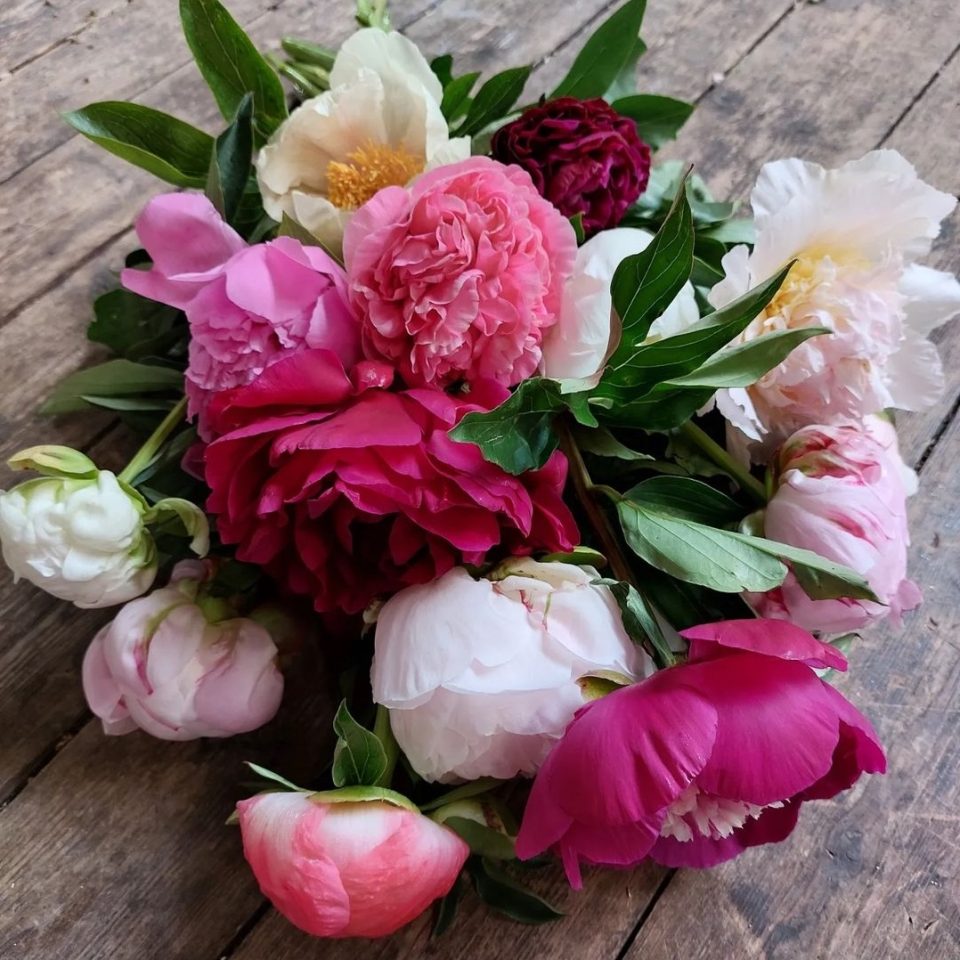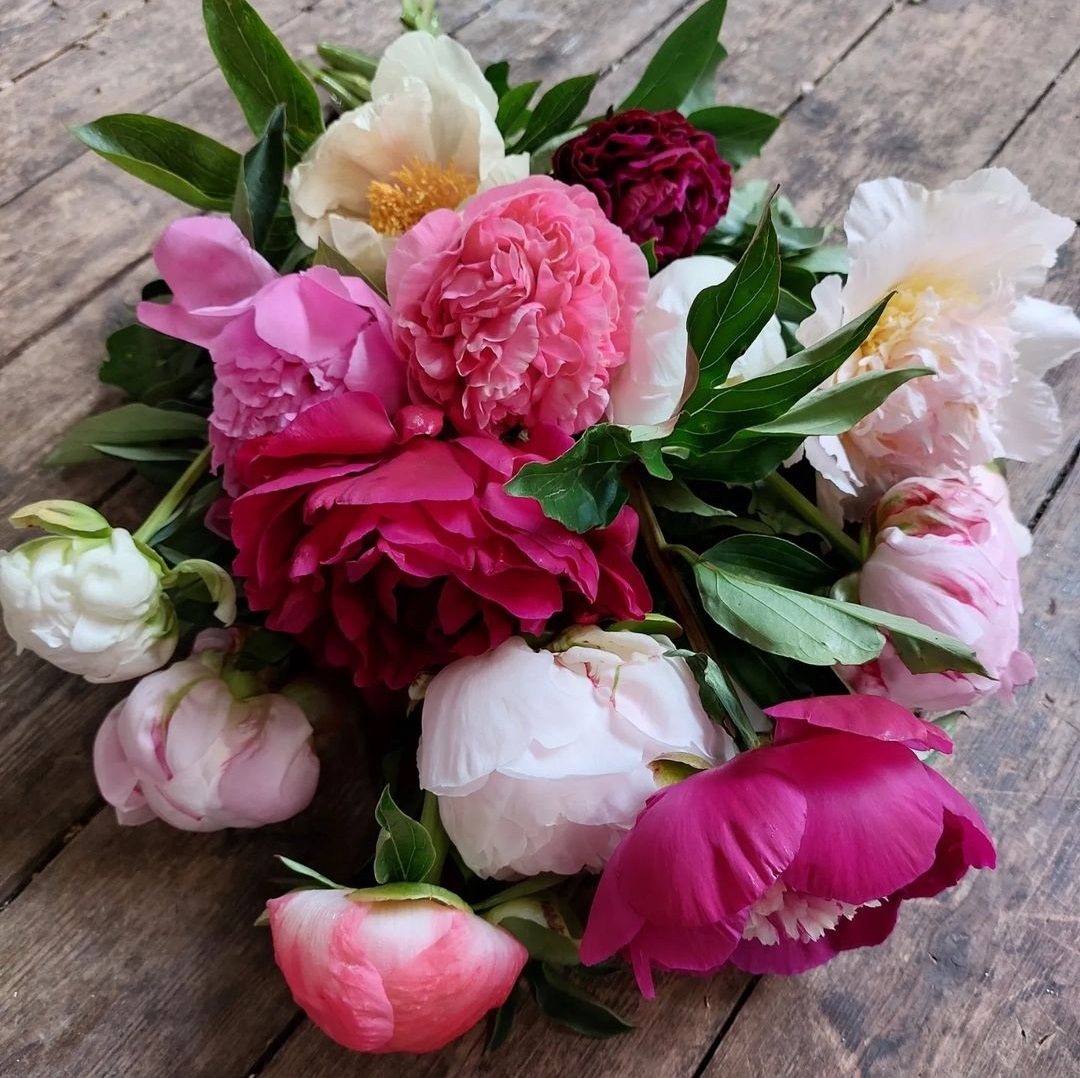 A look at one of our favourite Peony growers!
Groot&Groot Peonies is a grower of high quality Peony cutflowers and roots. With production locations and partners in the Netherlands, France, Italy, and South-Africa they are able to provide fresh Peonies year-round.
Their flower assortment spans 39 different varieties and their unique methods during cultivation, harvesting, and processing ensures the highest possible quality. Groot&Groot's strenght lies within their strict selection process of their harvested flowers. This ensures that every trolley leaving their company has a uniform look and that all flowers in each bucket are the same size. This is exactly why we – at Hukra – are such fans of this company! Groot&Groot is innovative and continuously reviews their assortment. This way, they strive to offer the newest and best varieties available!
The flower
Peonies are a classic garden plant and it's classified as a perennial. This means that it will flower more than once during its lifespan. The plants can grow up to 100 cm tall and they can last more than ten years.
When grown outside, peonies have a flowering span of about two weeks. The period in which they flower depends on the climate in which they are grown, but this is usually during spring time. A peony plant can produce between 6 to 15 flowers, depending on the variety and the circumstances under which they are grown.
The flowers are cut by hand, so that only the flowers of the best quality and in the right stage are cut at the right time. Groot&Groot does not apply large scale harvesting mechanisms, as this might damage the flower.
Multiple locations
Groot&Groot has multiple partners and production locations in other countries. All locations use the same cultivation standards and harvesting process so that the flowers are of equal quality and standards.
The peonies from Italy are the earliest in the year and are available during March and April, followed by France (flowers available in May and June), the Netherlands (flowers available in July and August), and (this year for the first time) South Africa, from which the flowers will be available from October to January.
Blog
Workshop at Hukra Stockholm – April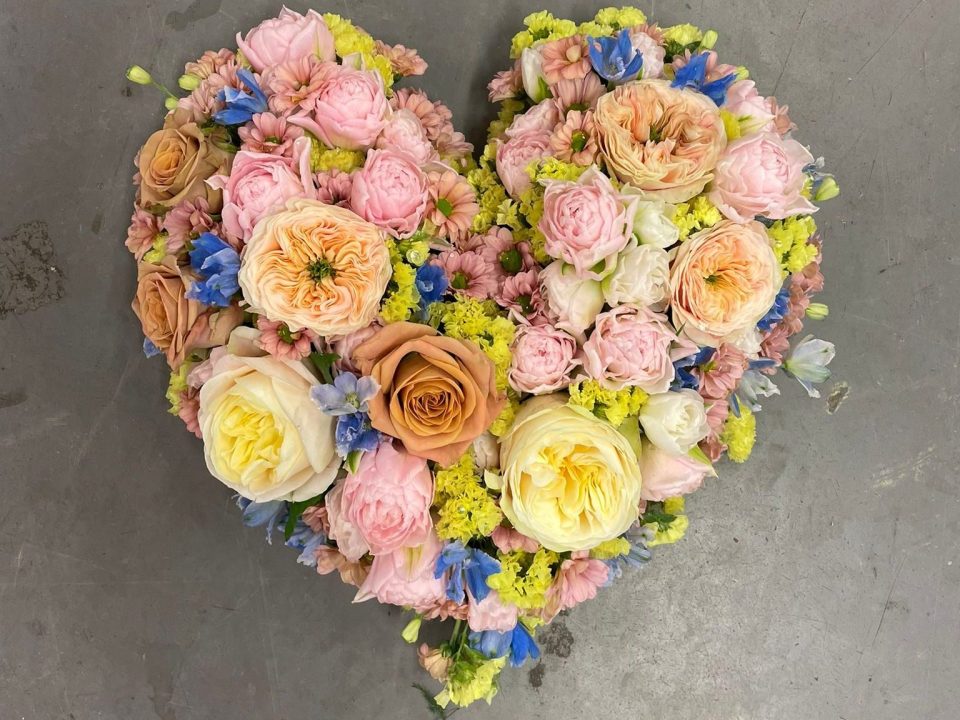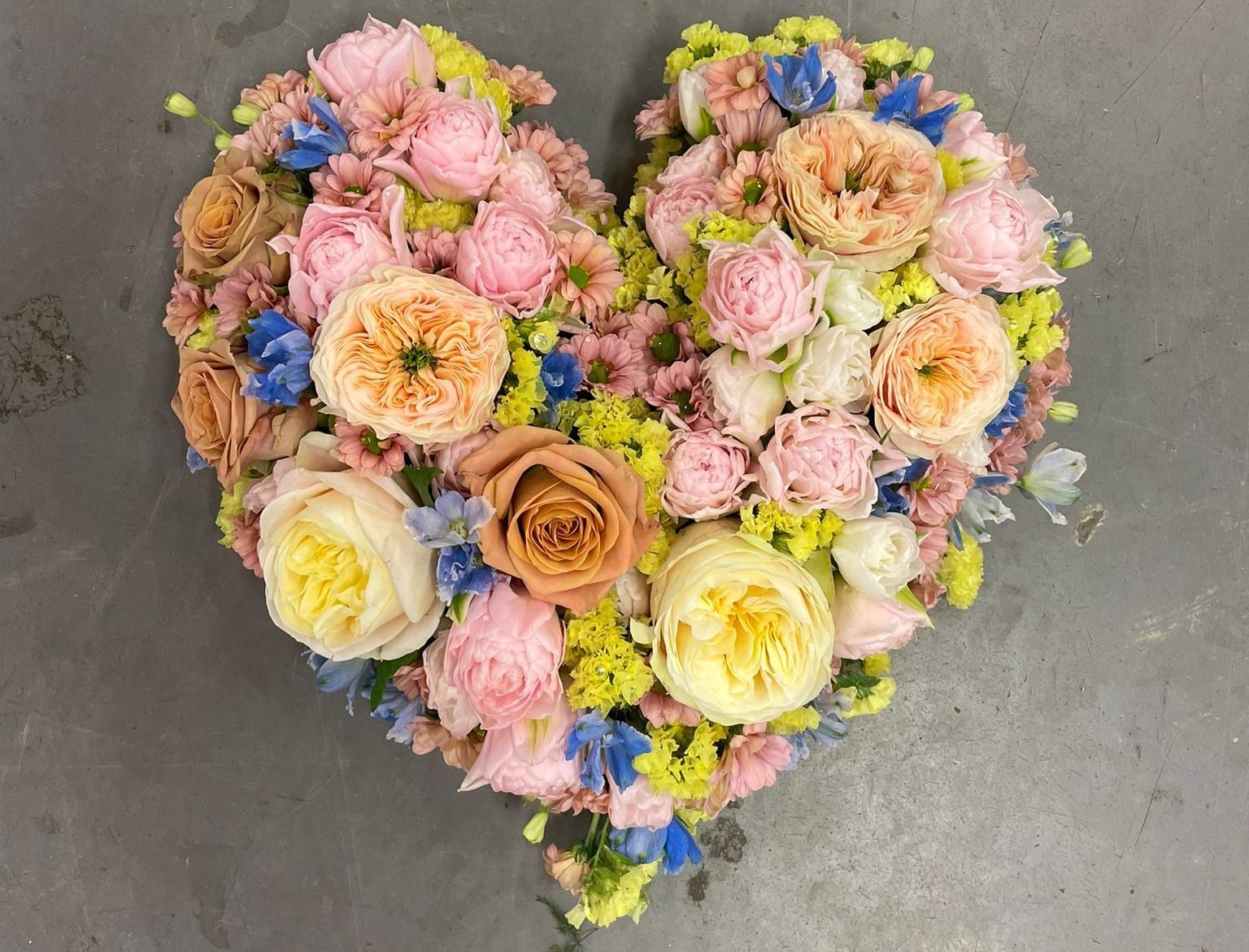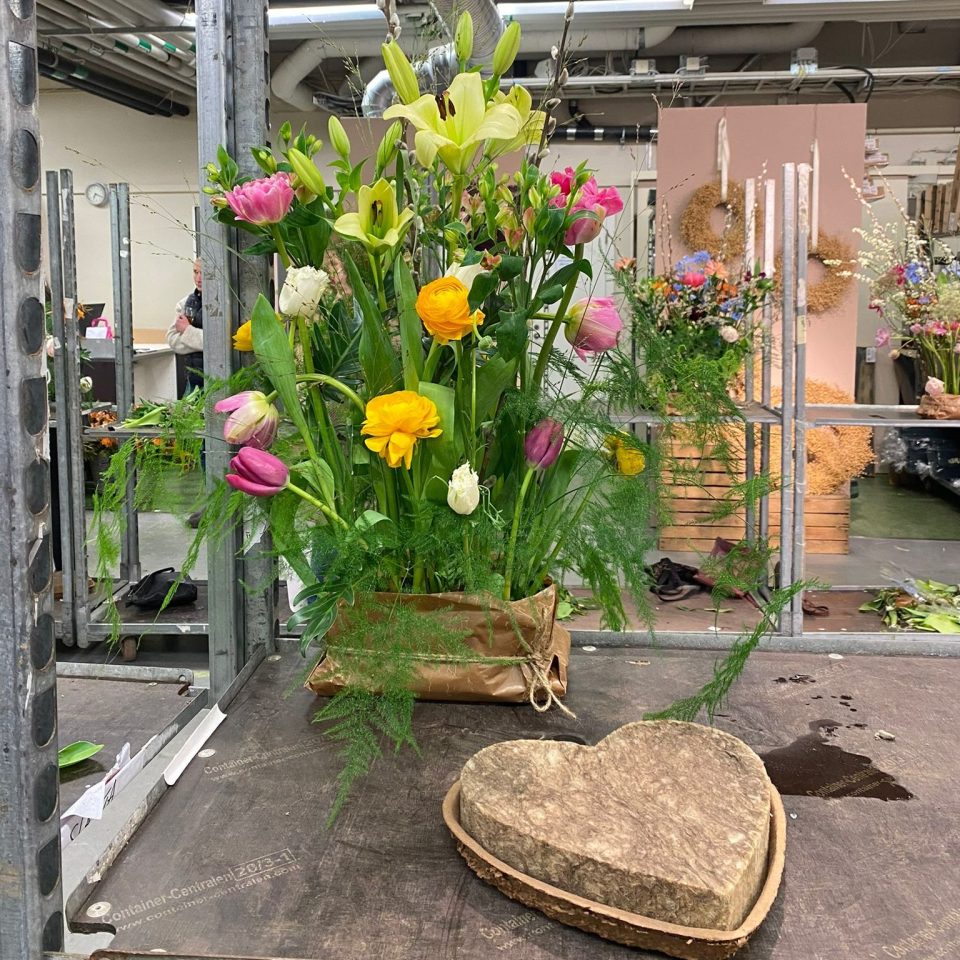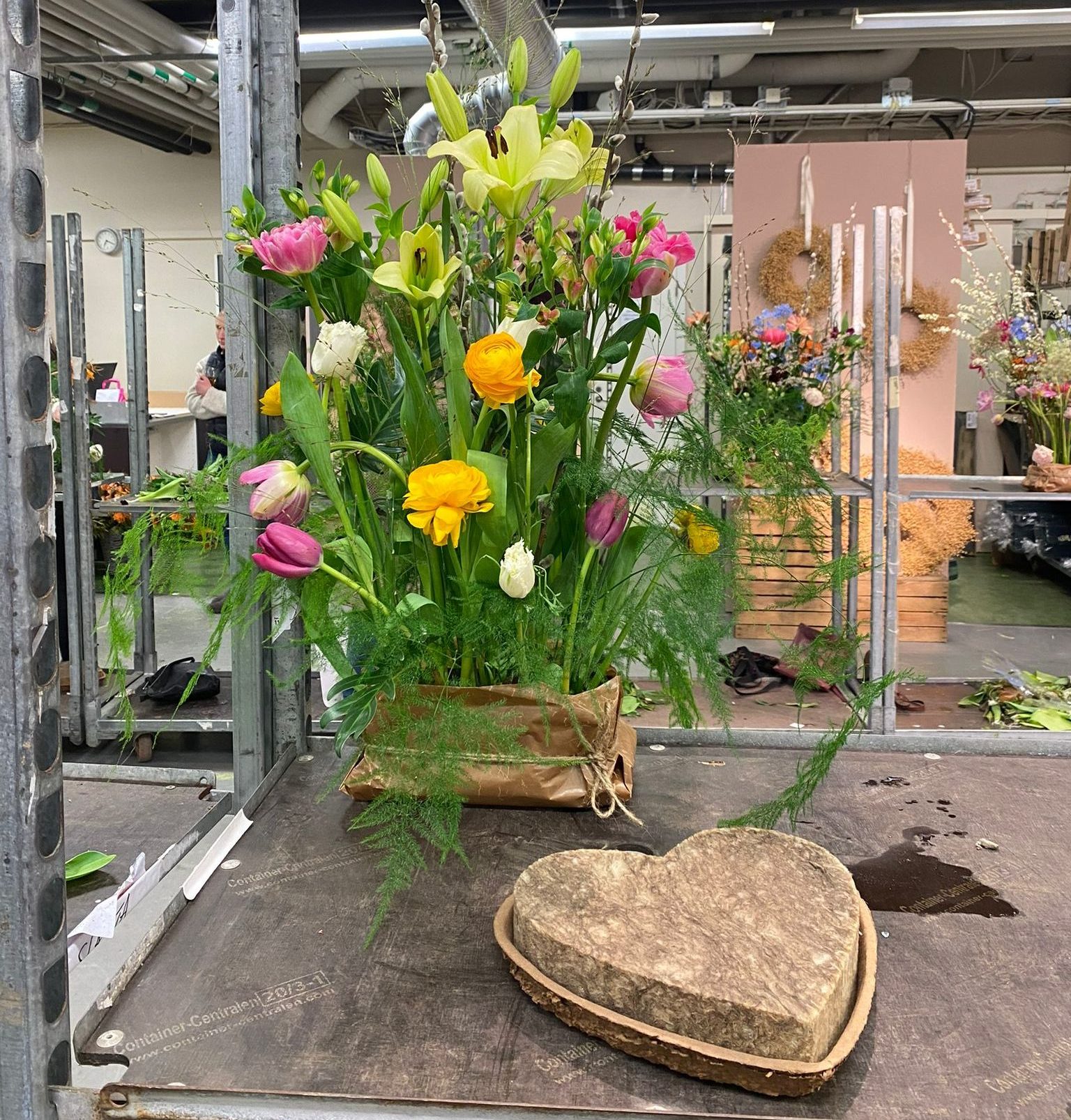 Once again, our customers could work with products from Oasis's FirbreFloral line!
On Monday April 17th, Hukra Stockholm organized another workshop, together with Smithers-Oasis and florist Heidi Mikkonen! Once again, our customers could work with products from Oasis's FirbreFloral line. This is one of Oasis's newest products and made from natural ingredients. The product is derived from natural volcanic basalt rock and has excellent water holding capacity.
And of course, we had lovely seasonal and novelty flowers from our sponsors for our customers to work with! For this edition, the flowers were sponsored by Groot&Groot, Deliflor Chrysanten, Wans Roses, Monarch Flowers, Gia Flowers, and van der Valk Groenesier.
For an impression of the event, click on the photos in the gallery below!
Blog
Narcissus Magic: WF Leenen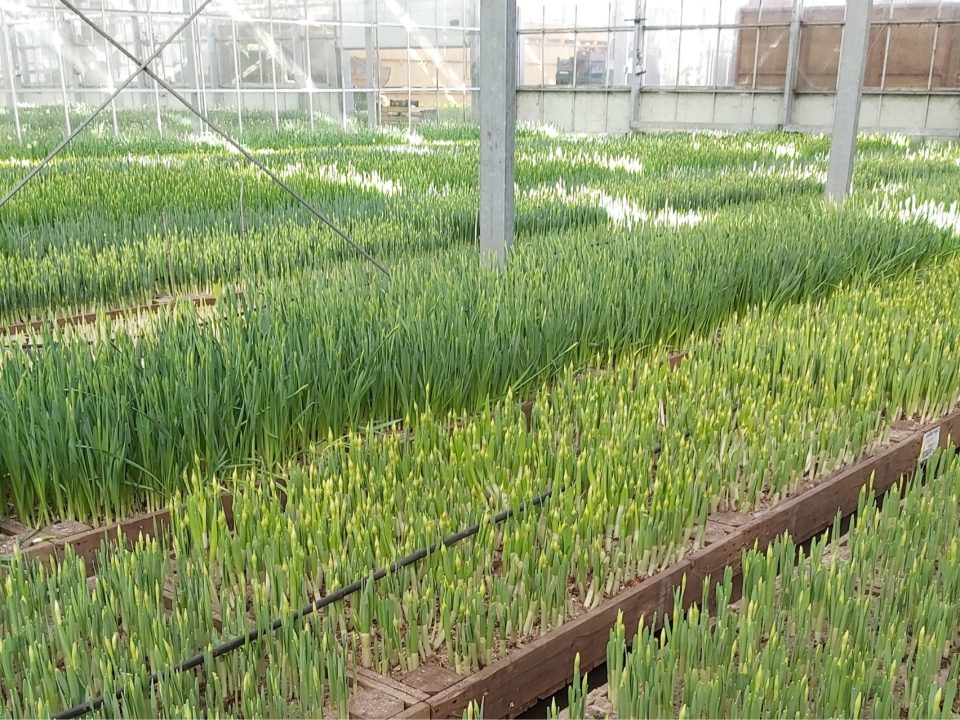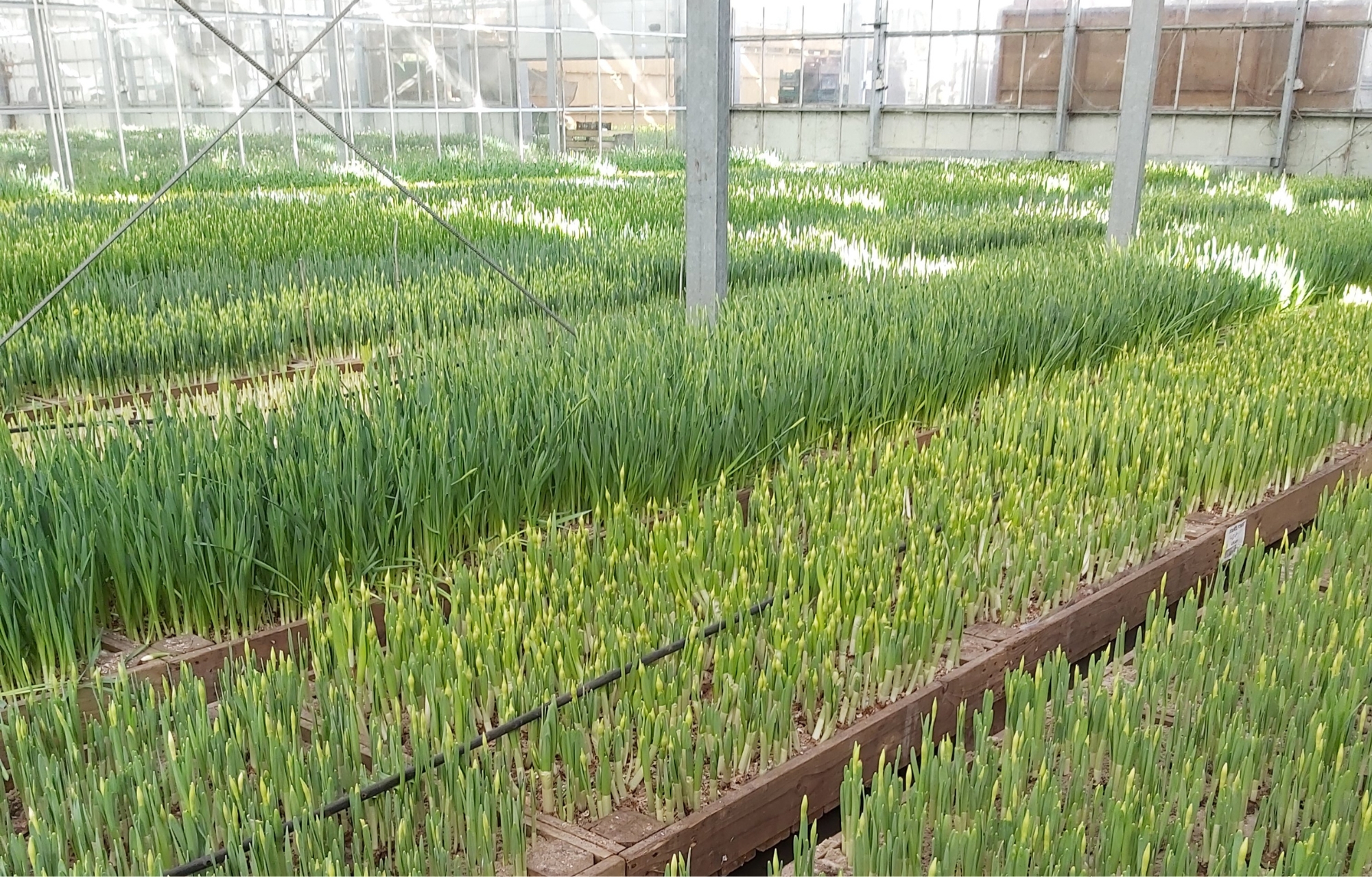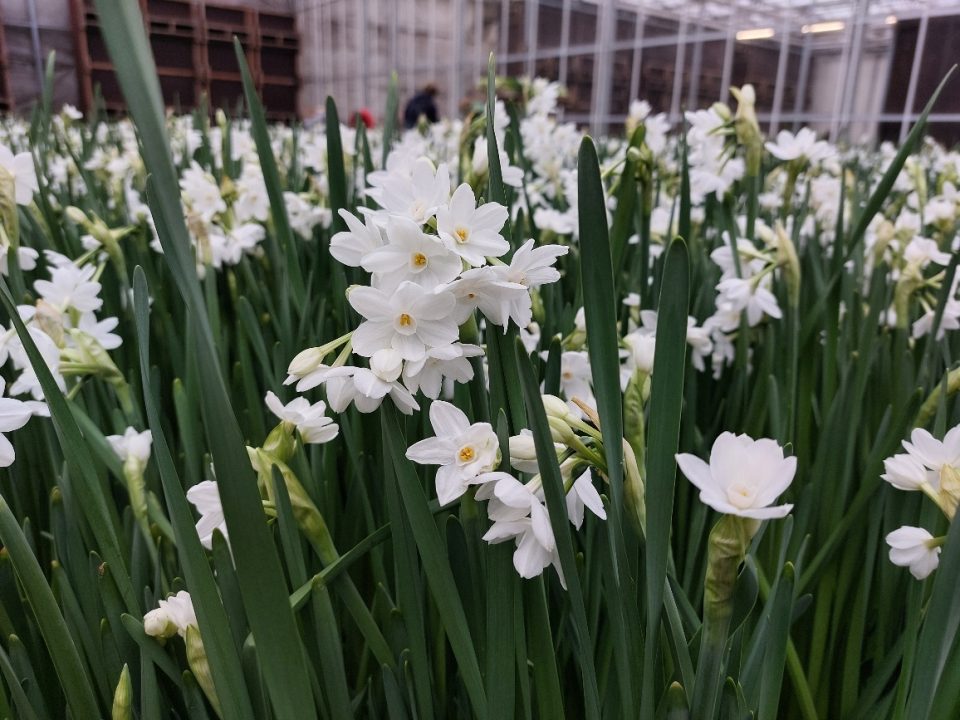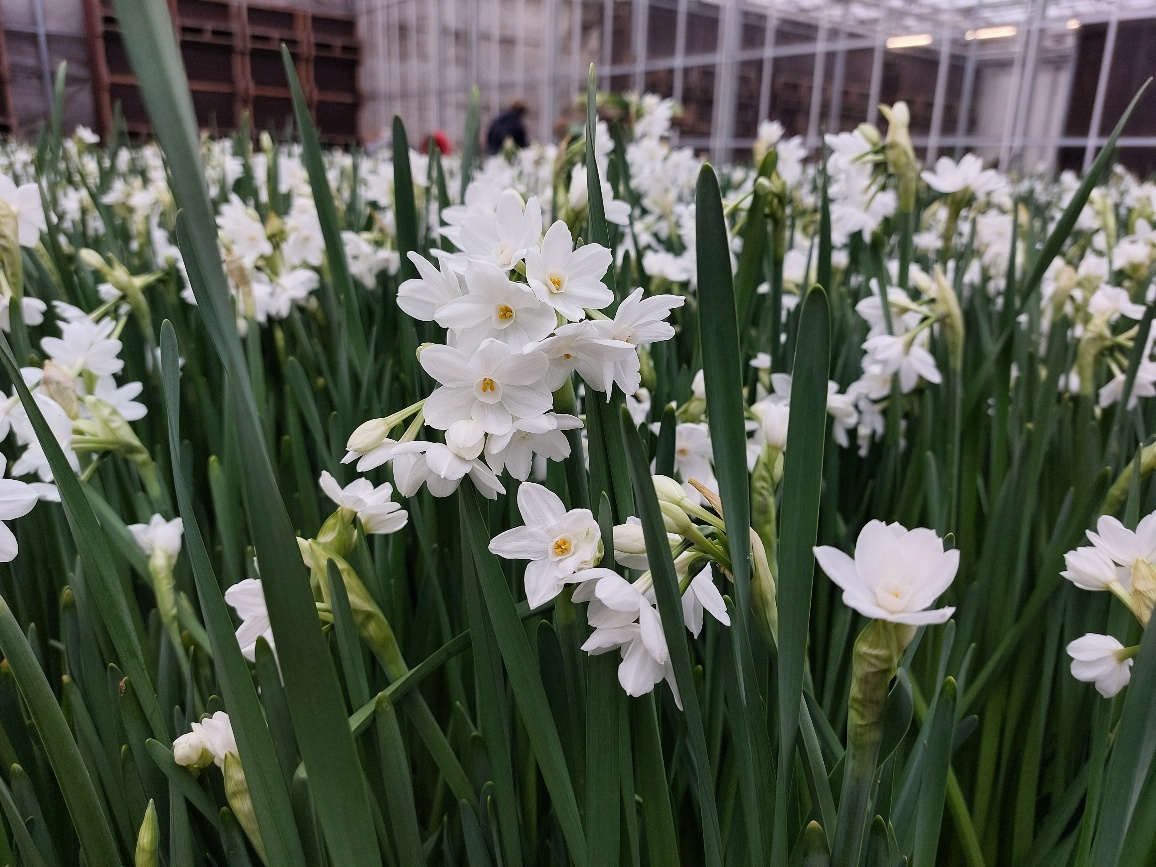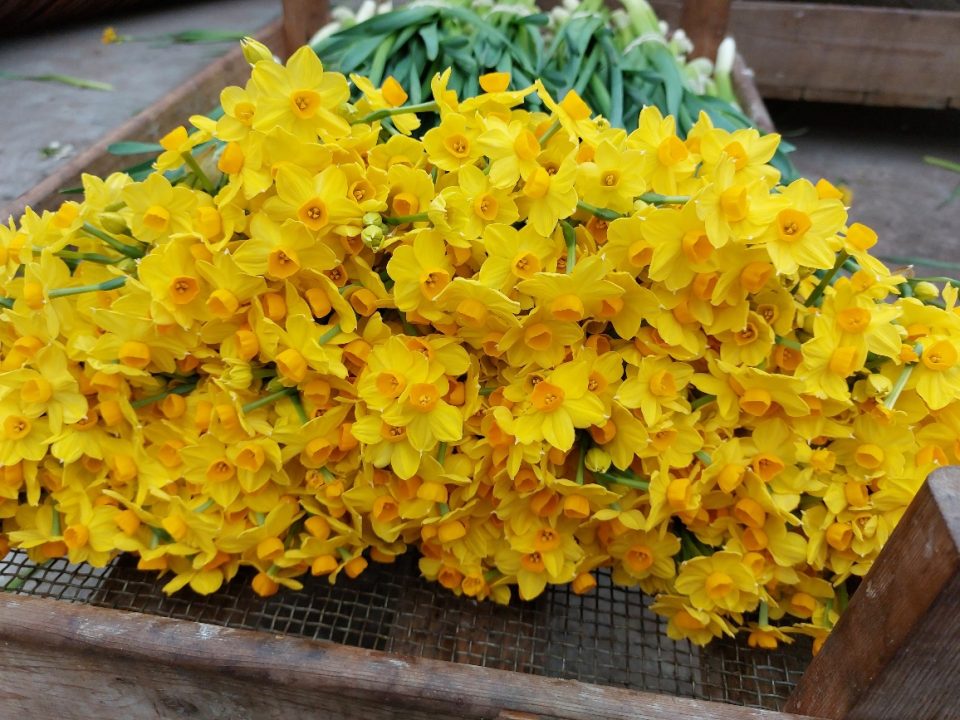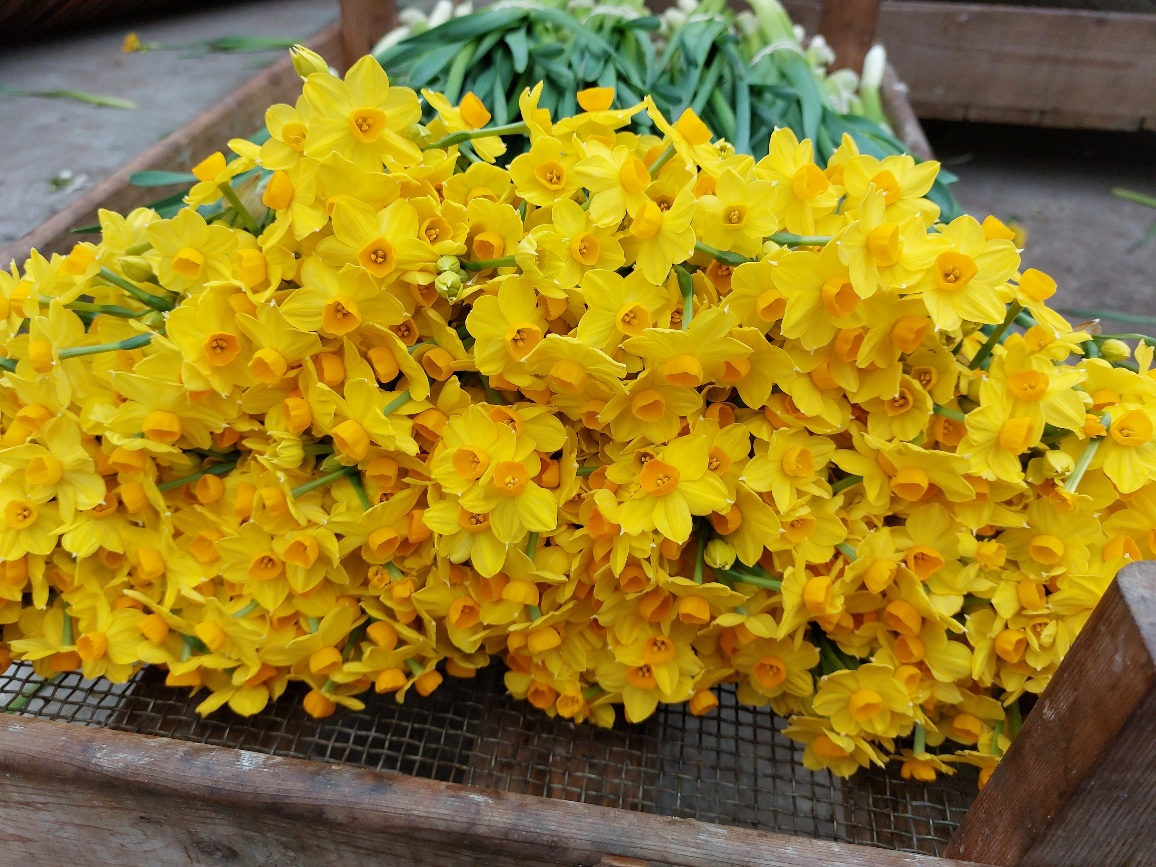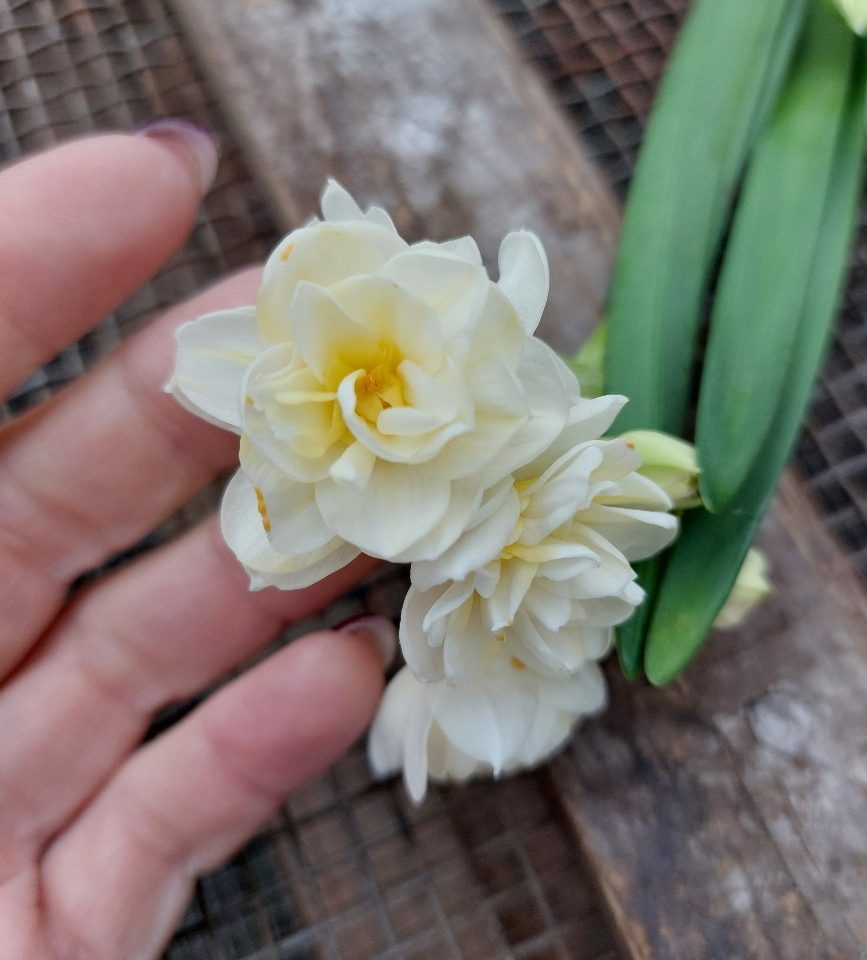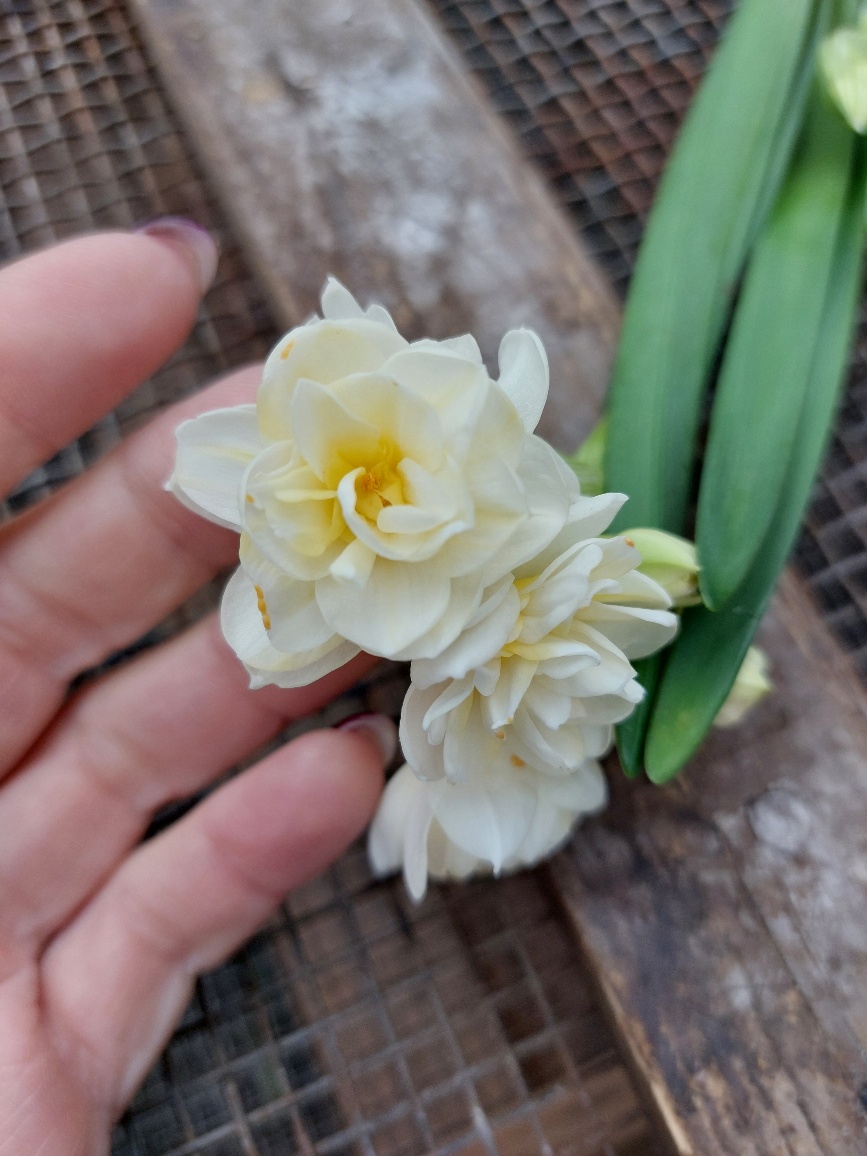 If you're looking for exclusive Daffodils, look no further! Grower W.F. Leenen has some amazing varieties to offer!
W.F. Leenen is a family company which was established in 1954, and is located in Voorhout, the Netherlands. Brothers Jaco and Dirk are the third generation of growers to lead the company. They specialize in the growing, forcing, breeding, and export of Narcissus bulbs and cut flowers. Their assortment spans about twenty varieties, of which part is of their own invention. They produce about four million stems a year and their bulbs are exported all over the world!
Growing Process
Their bulbs are grown on seashells from the North Sea, so that they are completely free of soil when exported. It also ensures less production loss as the bulbs are less likely to be infected by diseases. The shells can be used up to three times, and as time progresses they fall apart and become of an almost sand like structure. W.F. Leenen has been growing their Daffodils this way for over twenty five years.
After the bulbs are forced, they are placed in cold storage for a period of four weeks. This will cause the flower bud, which already exists within the bulb, to start developing. After that the pallet boxes in which the bulbs are grown are placed in the greenhouse, where they will remain for another four weeks until harvest. During this time, the leaves and flower buds will fully develop.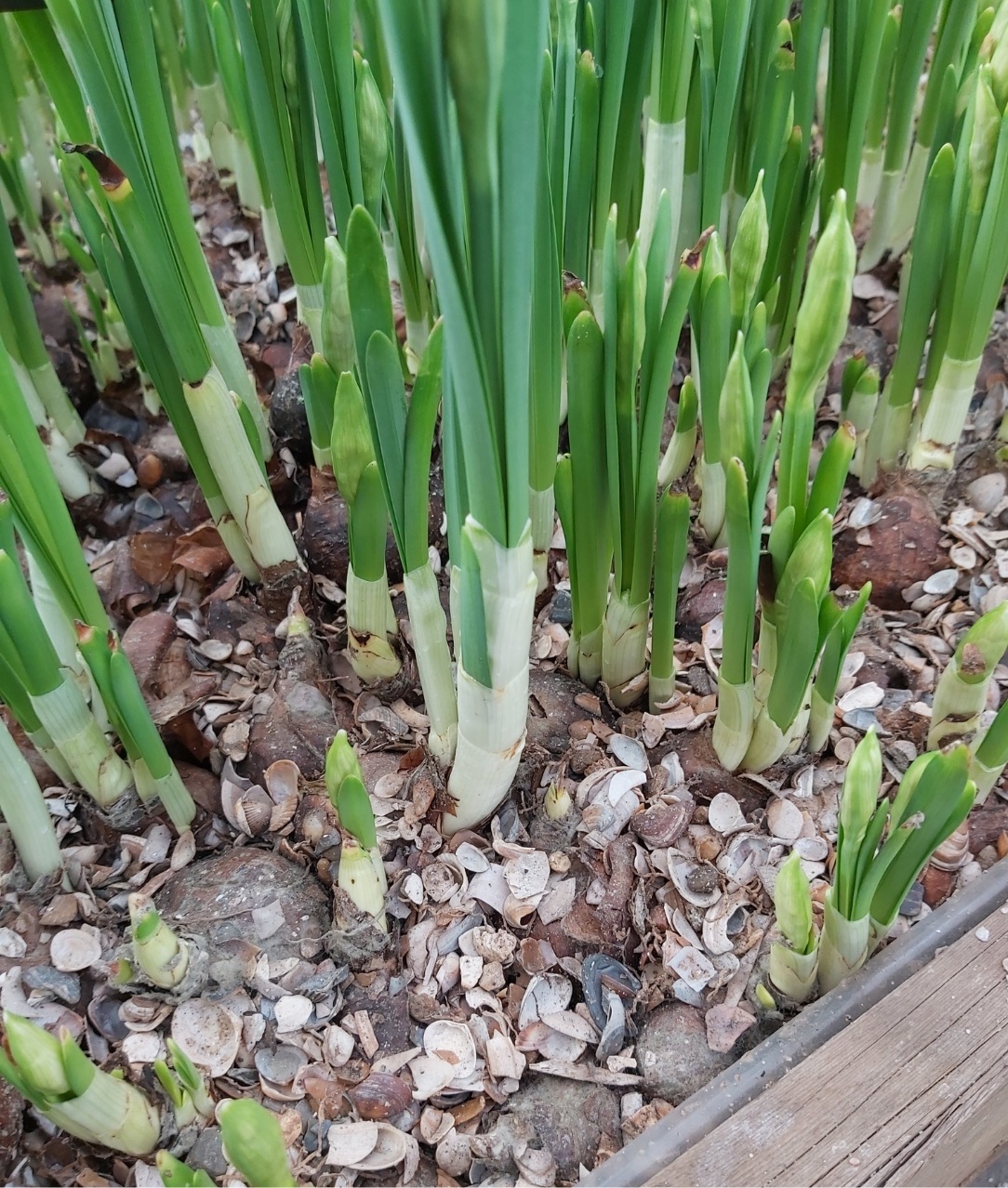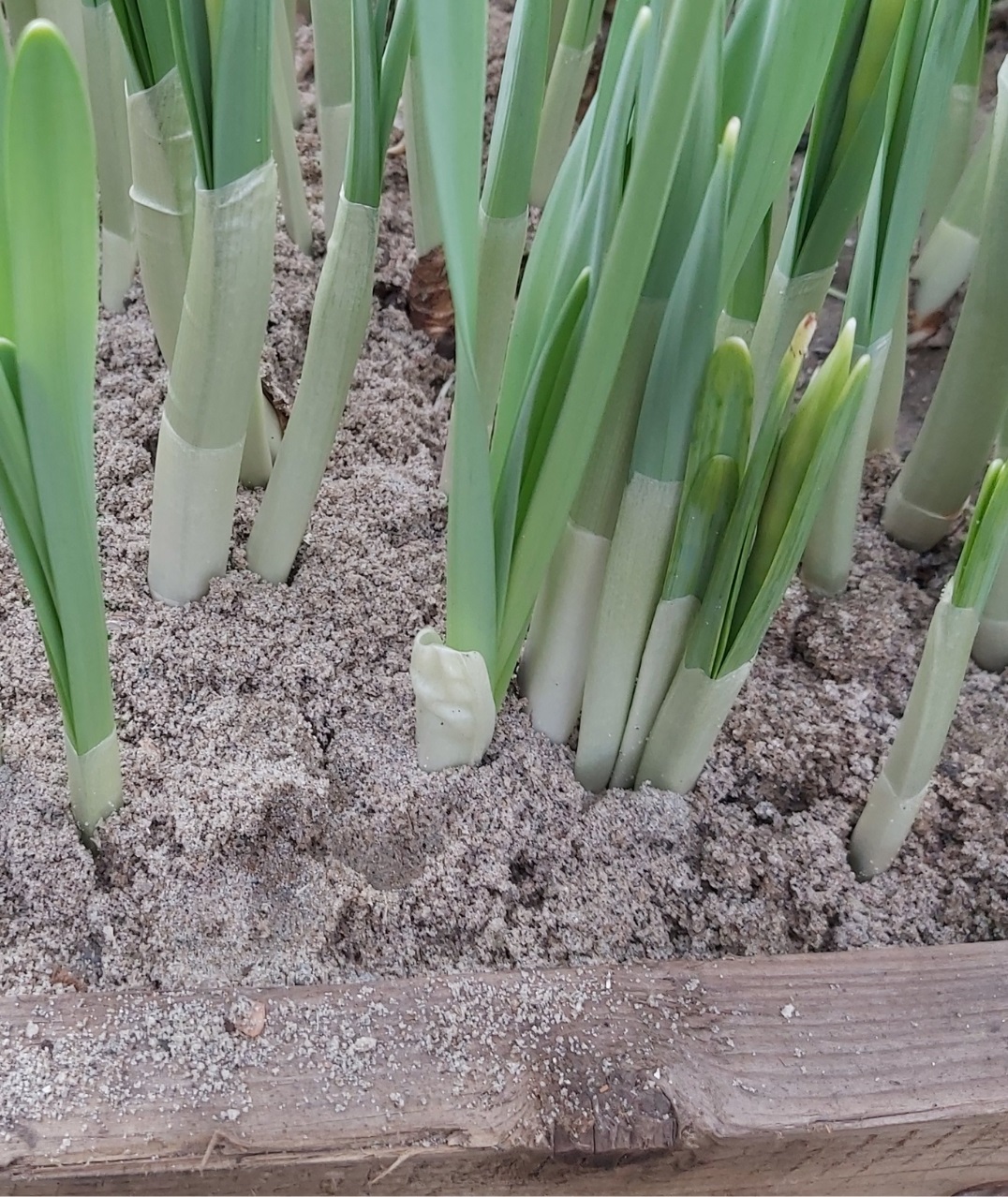 Blog
LS Santini : Nature Inclusive Growing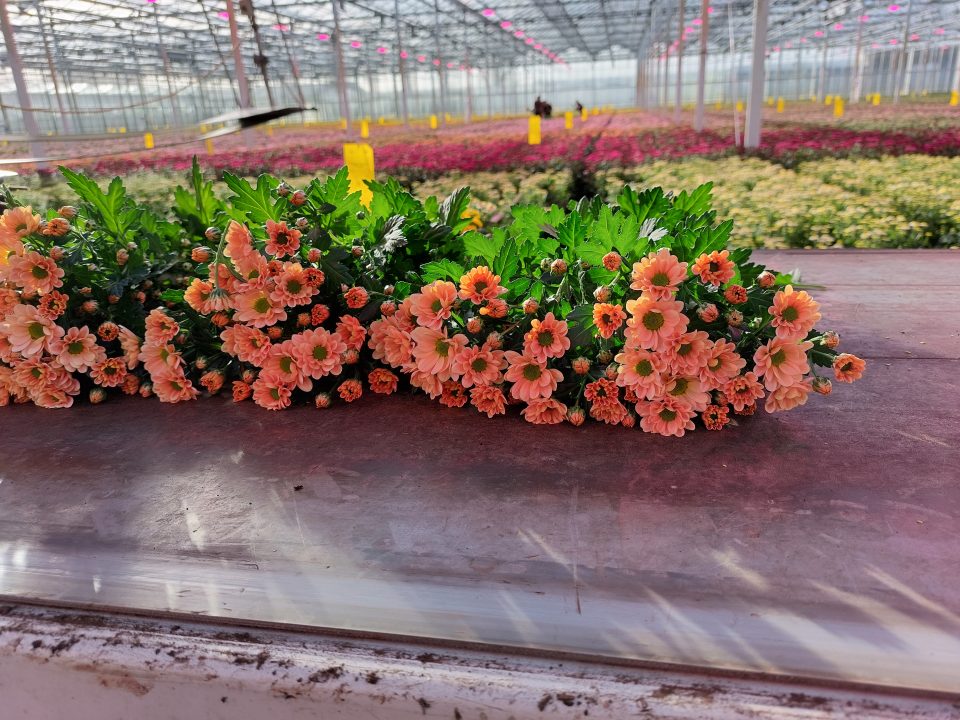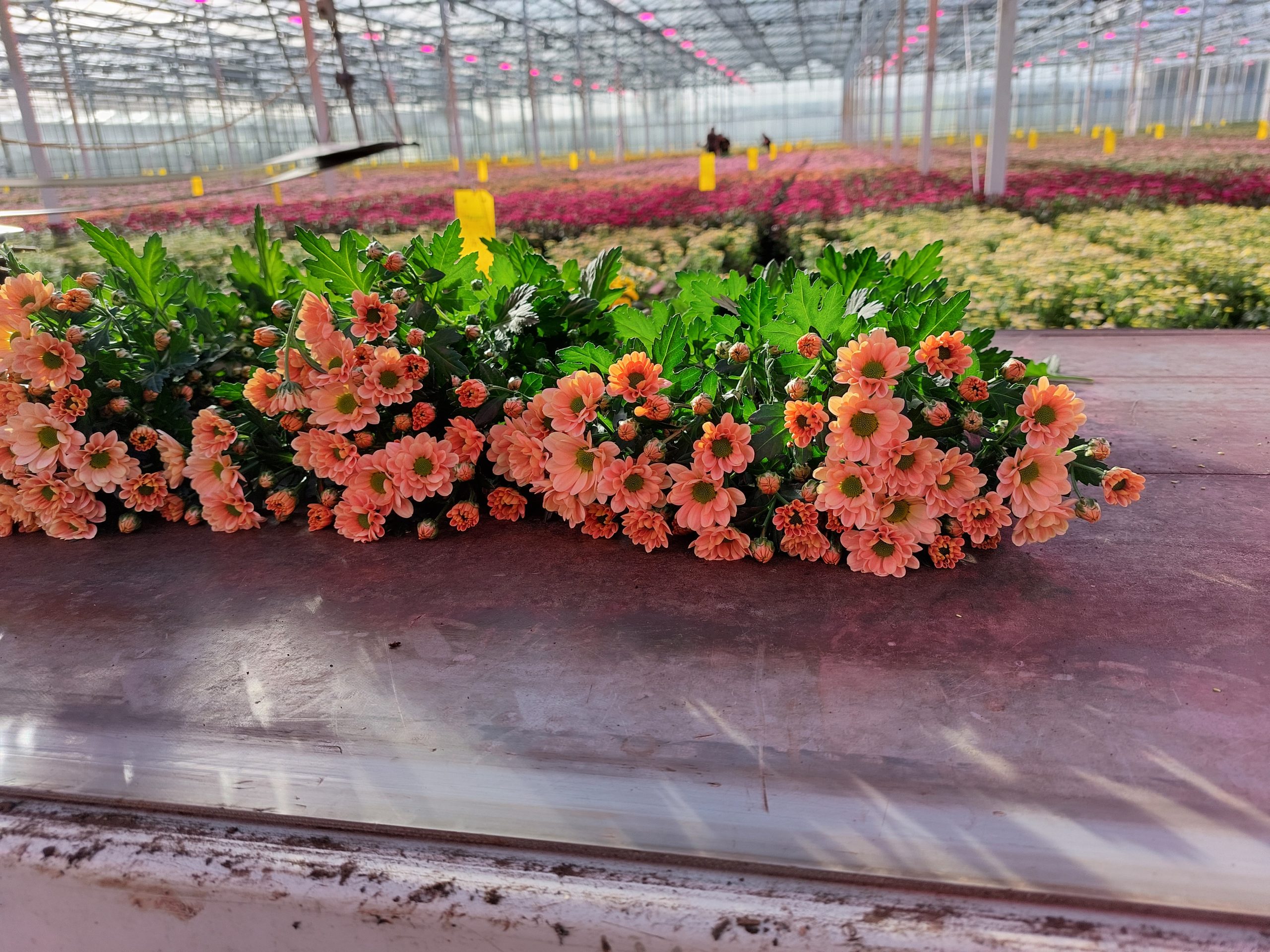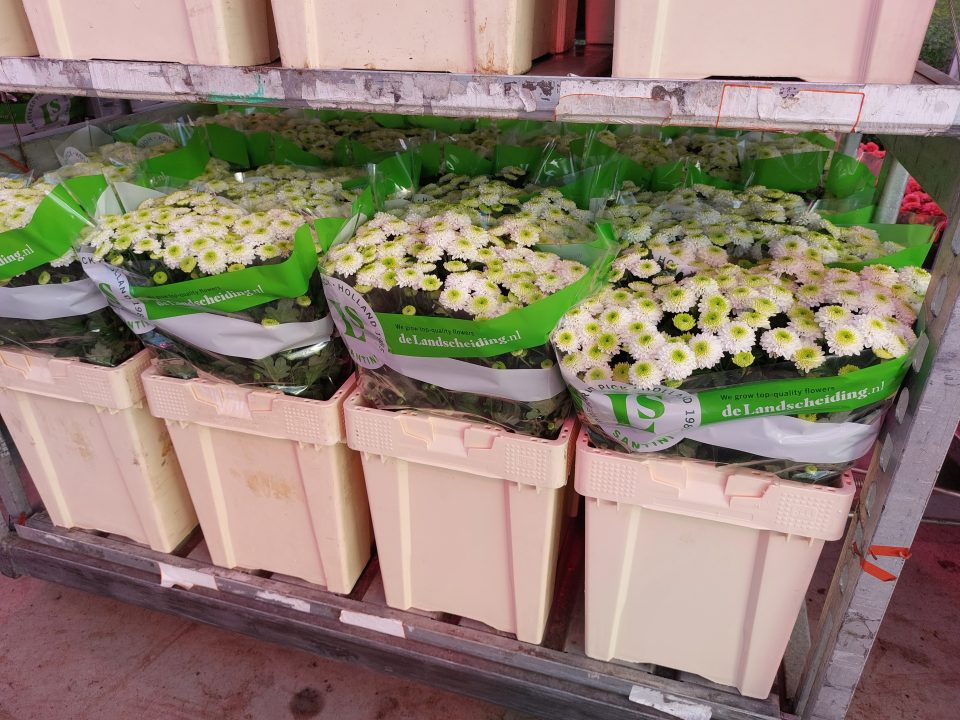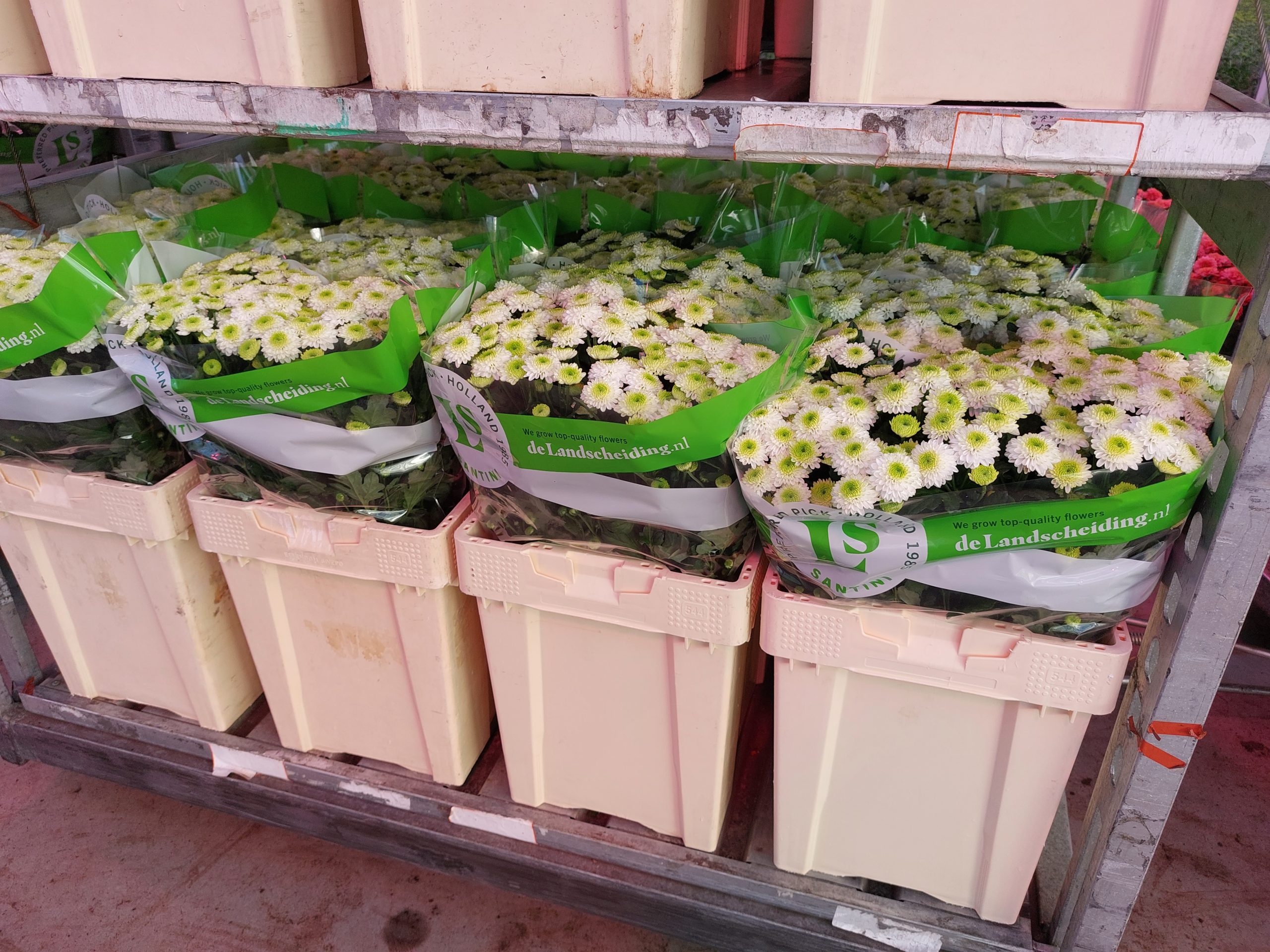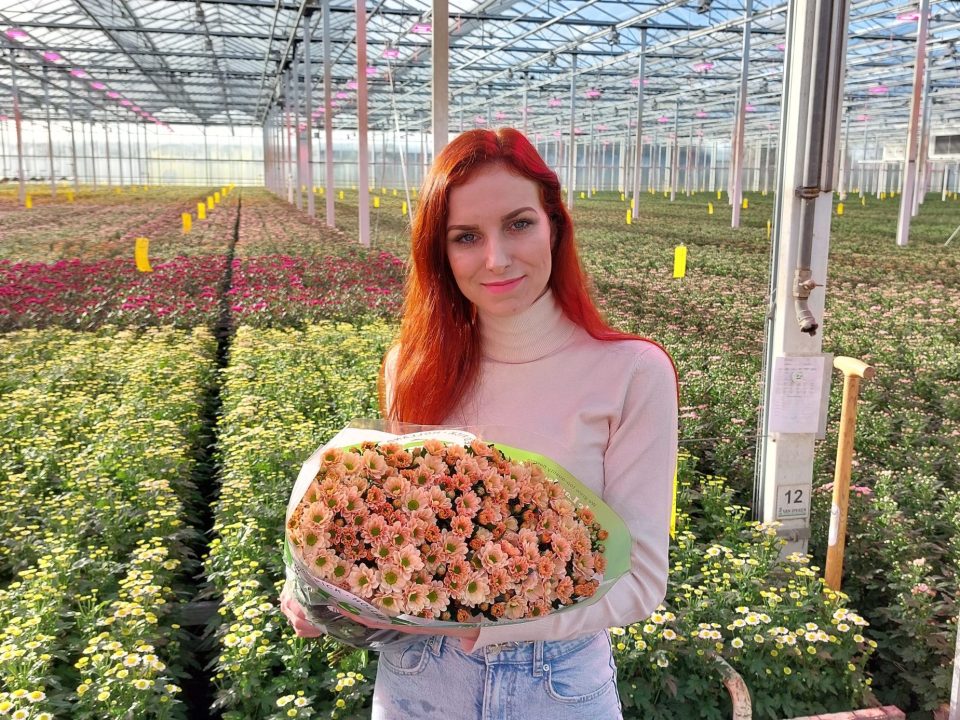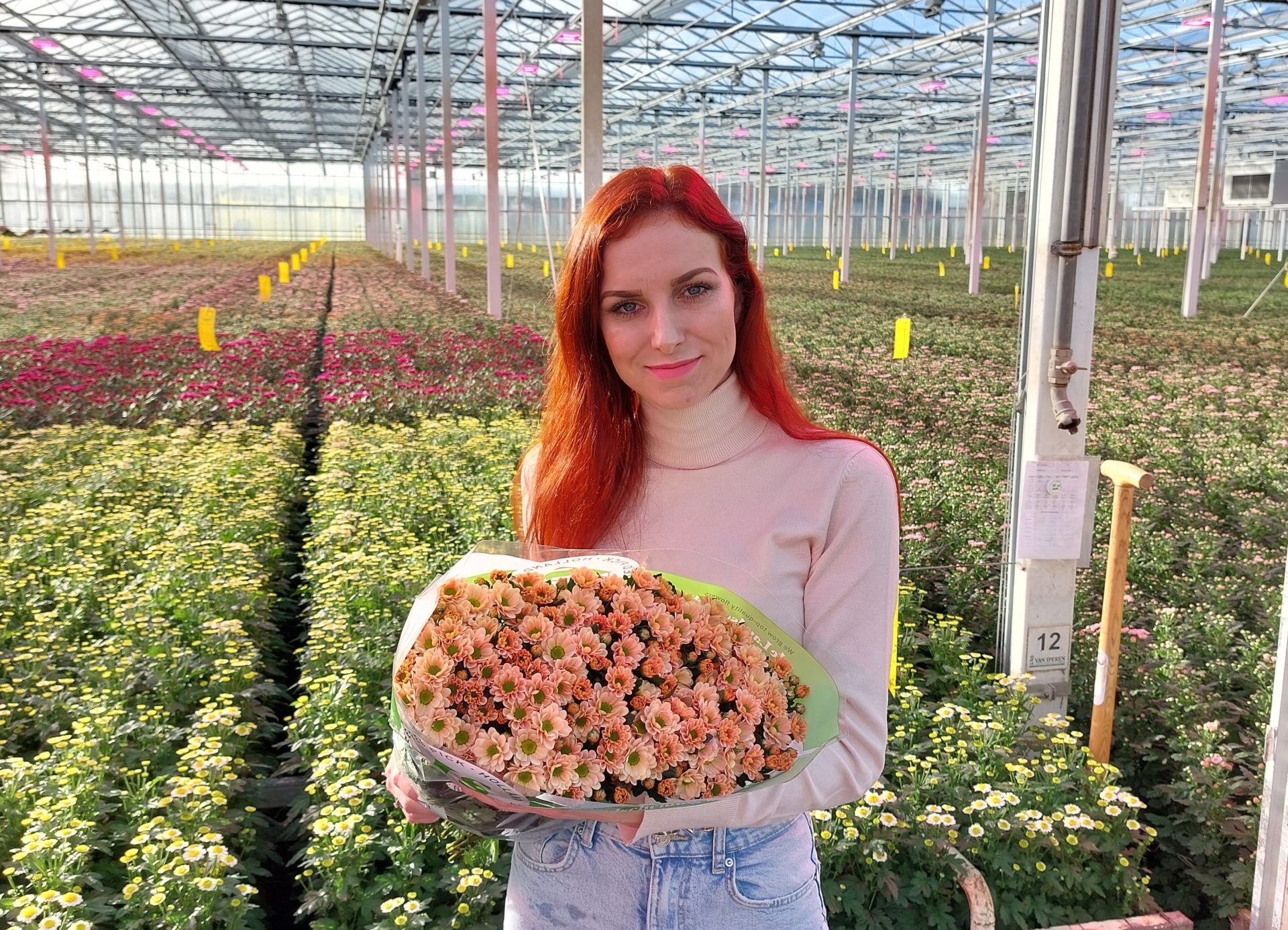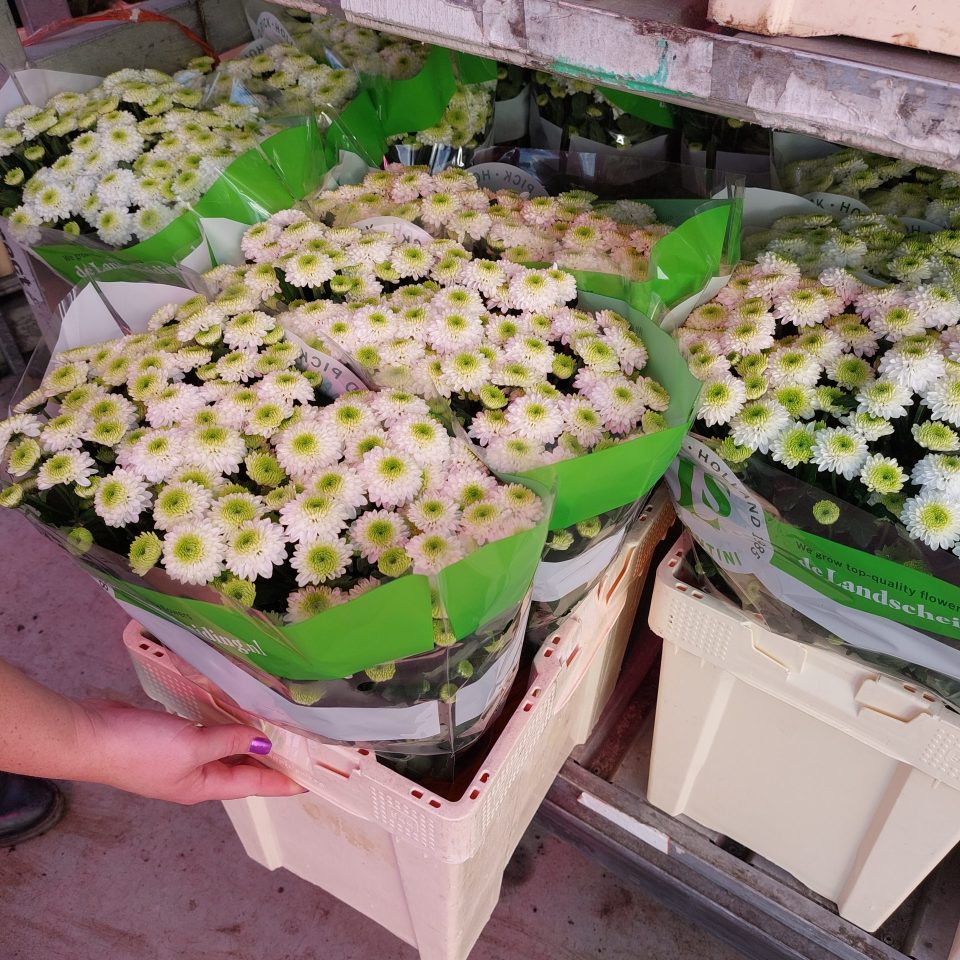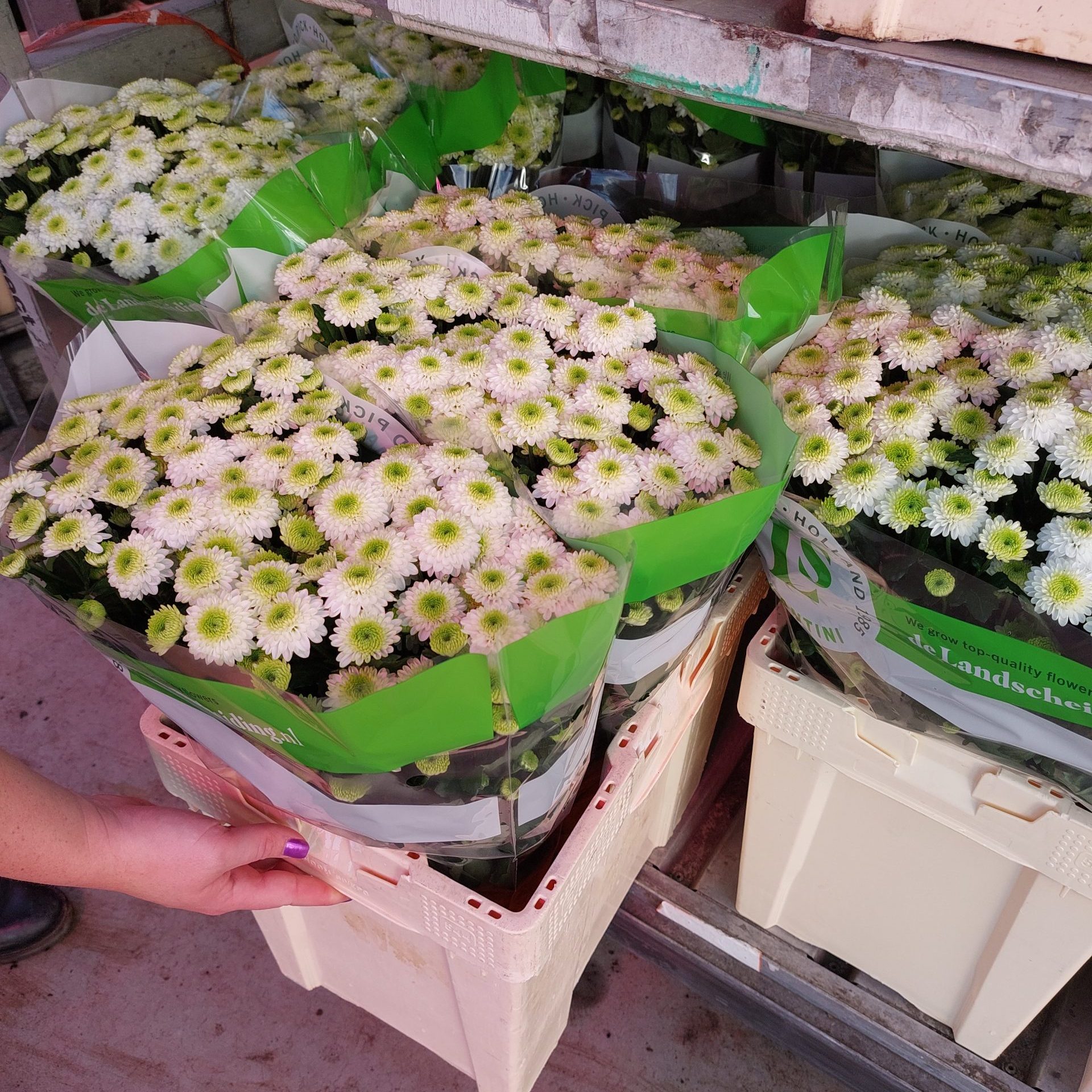 How LS Santini grows high quality Santini in a new way!
LS Santini is located in Bleiswijk, the Netherlands, and has existed for over thirty years. It's a true family company, with three of the five children working in the nursery. Daughter Juliska, who is responsible for sales , is the one to lead us around in the greenhouse. LS Santini's assortment consists of exclusive Santini varieties, like Rossi and Calimero.
The company is known for producing high quality Santini, which are harvested by hand every day. Fresh flowers? You got it! On first sight, the greenhouse looks quite different from what one might expect from a chrysanthemum grower. Instead of having one variety per section as is usual, LS Santini plants multiple varieties in smaller amounts in each section. The result is a colourful blanket of flowers, which are worked through on a daily basis. Only the stems in the right flowering stadium with uniform quality are harvested. The flowers are packed in the greenhouse itself, which also contributes to the high quality standard. After all, the line of communication between the person packing the flowers, and the people harvesting them is short, so it's easy to adjust if necessary.
Like many other growers nowadays, LS Santini has LED-lights installed in their greenhouse, which reduces their use of electricity by 30-40%. Alongside that, eight dehumidifiers have been installed recently, which reduced the use of gas by 30%. But these are not the only environmentally conscious decisions the company has taken. Six years ago, owner Wilco decided to try a completely different approach to growing Santini. A careful study of plant physiological processes resulted in a new and natural way of growing top quality Santini.
So what is it that is so special about the company's way of growing Santini that makes them stand out from the rest?
The answer lies in their soil.
Blog
Workshop at Hukra Stockholm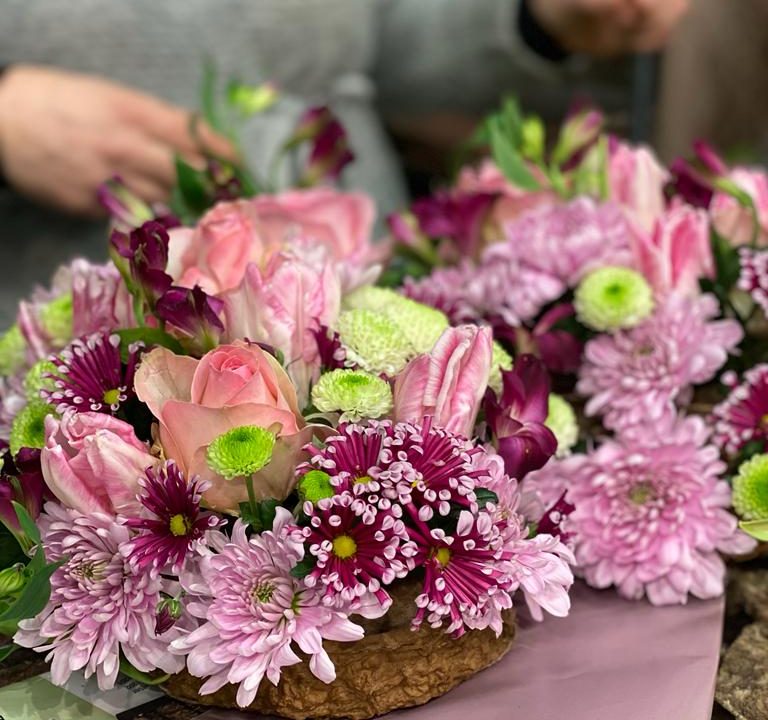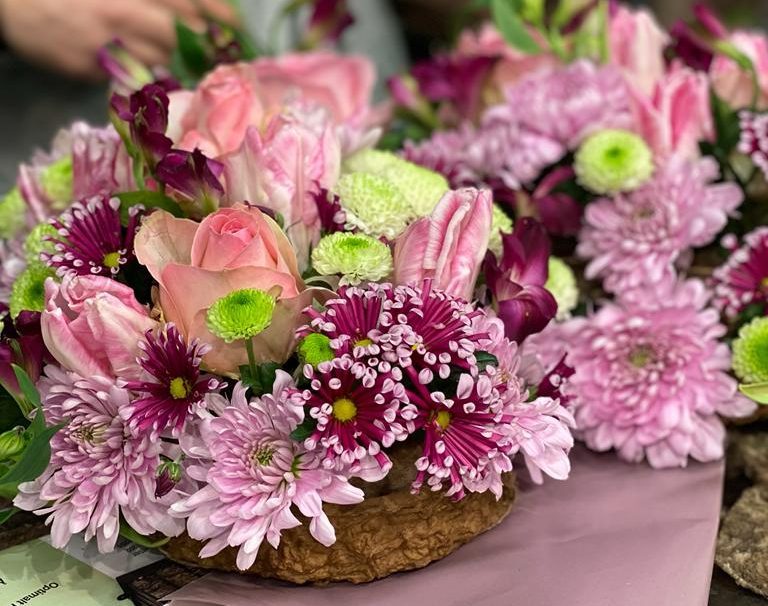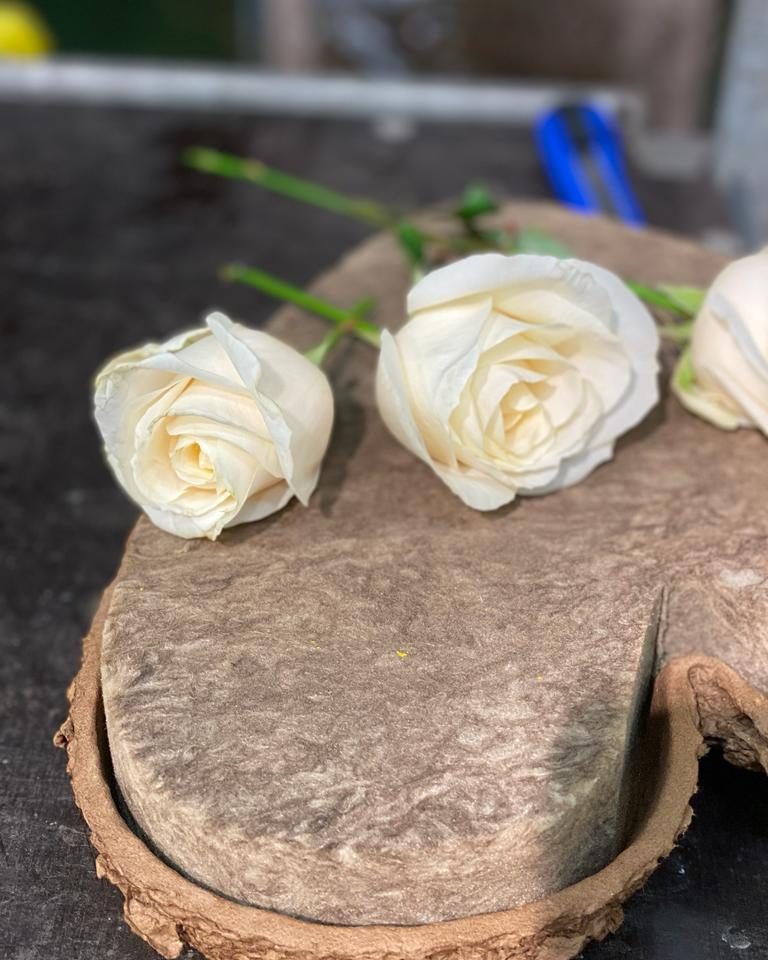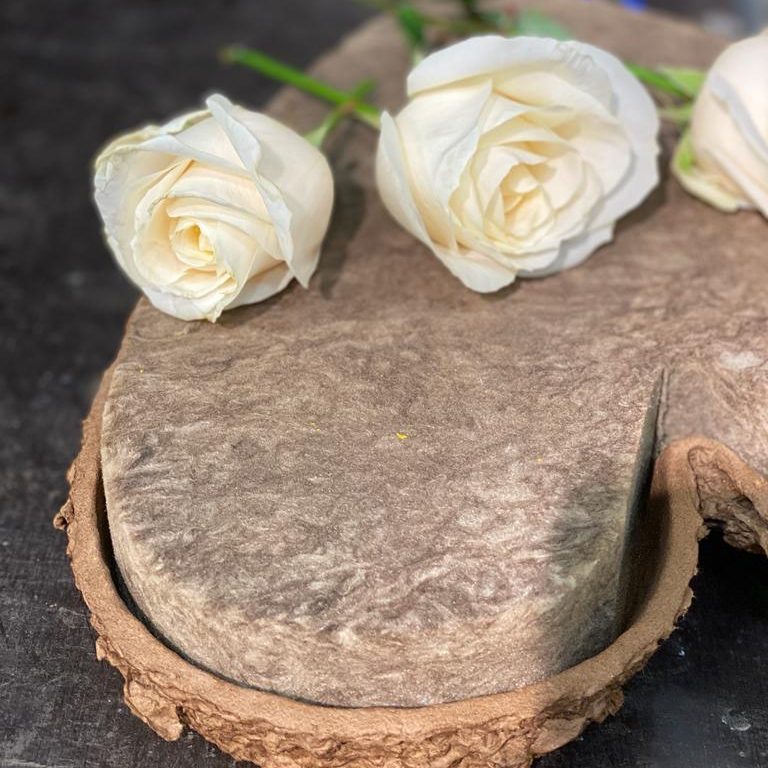 A wonderful workshop together with Smithers-Oasis and florist Heidi Mikkonen!
On Tuesday February 7th, Hukra Stockholm organized a workshop, together with Smithers-Oasis and florist Heidi Mikkonen, during which our customers could work with products from Oasis's FirbreFloral line. This is one of Oasis's newest products and made from natural ingredients. The product is derived from natural volcanic basalt rock and has excellent water holding capacity.
Each participant could make two different arrangements. It was wonderful to have so many people together, to share inspiration and enthusiasm. We had amazing flowers sponsored by Dekker Chrysanten, W.F. Leenen, Jac Oudijk Gerbera's, XL Tulips, van der Valk Groenesier, Könst Alstroemeria, and Together2Grow.
For an impression of the event, click on the photos in the gallery below!
Blog
Helleborus Aarendelle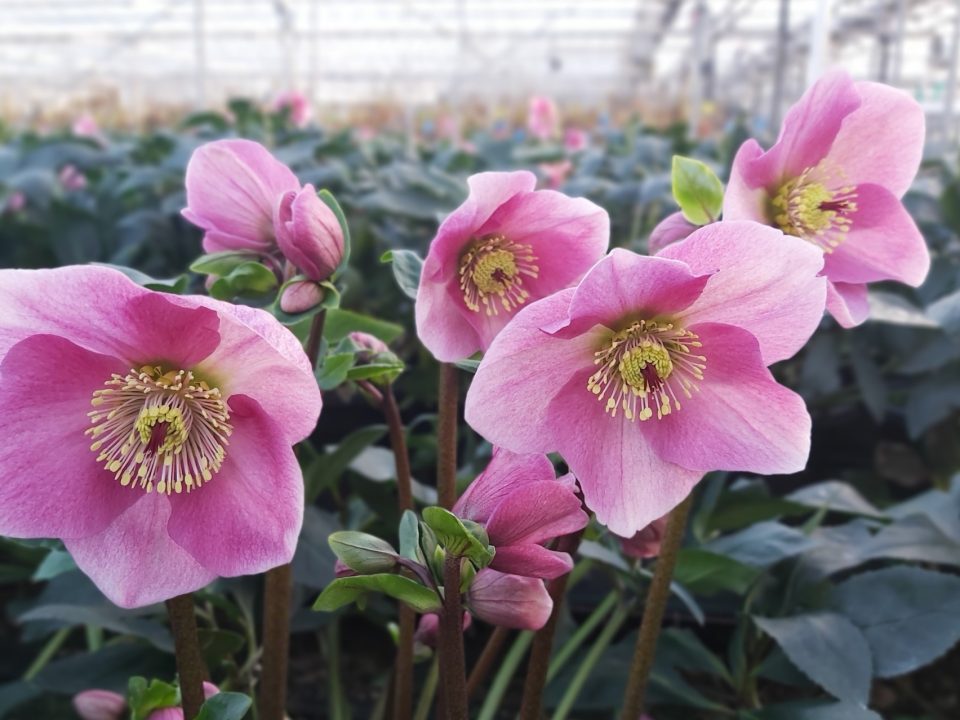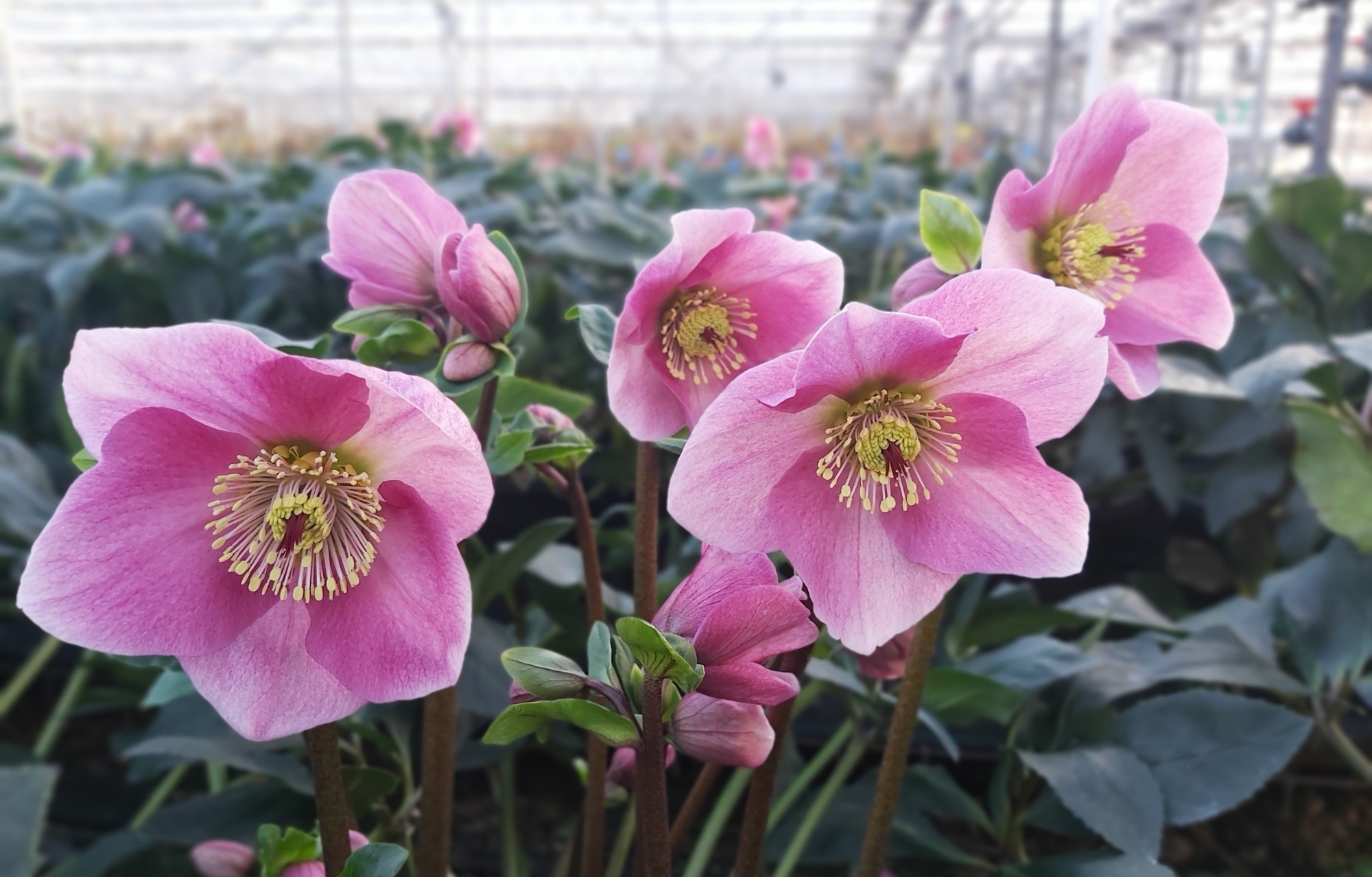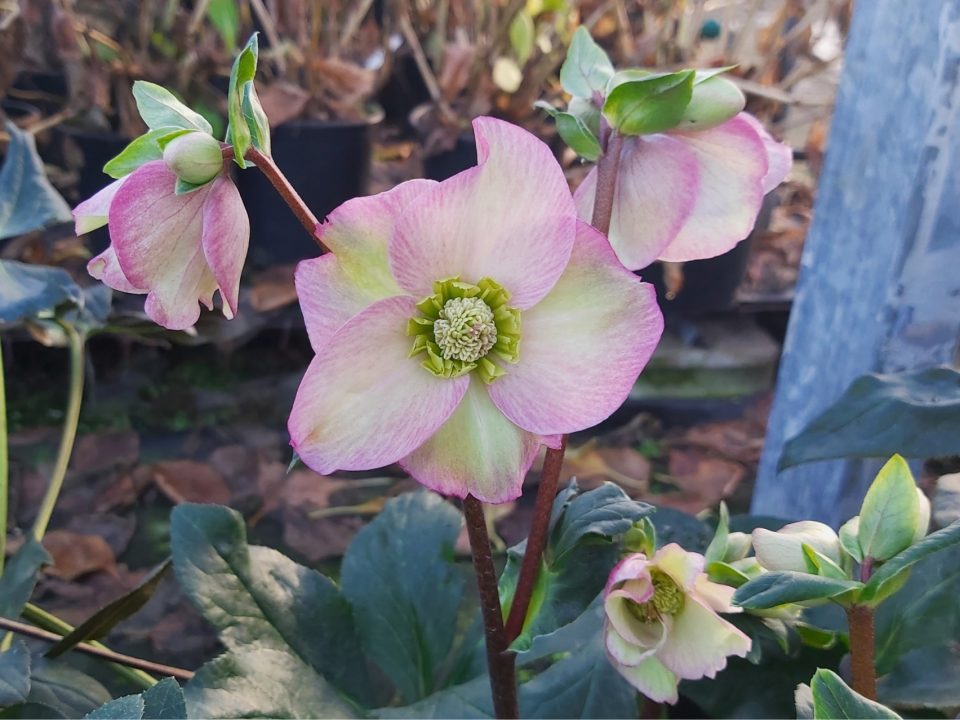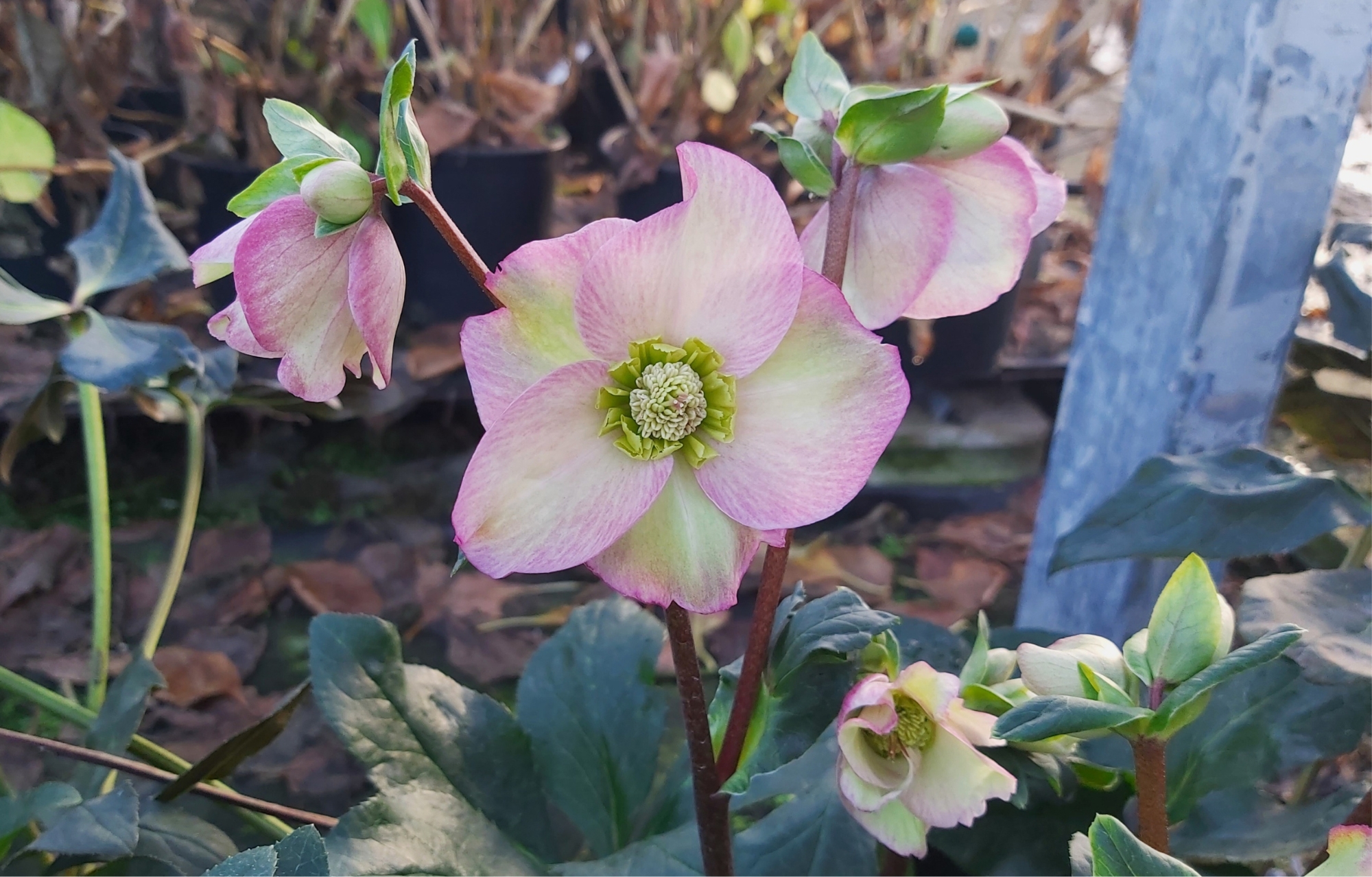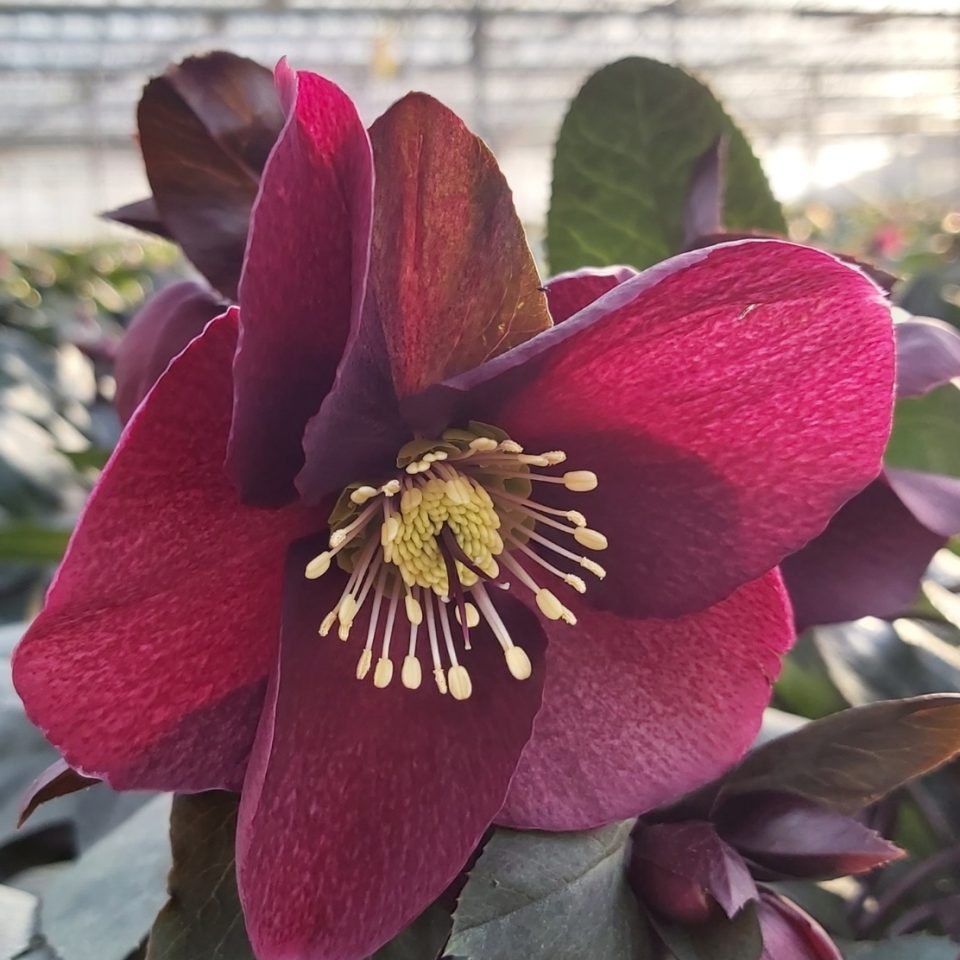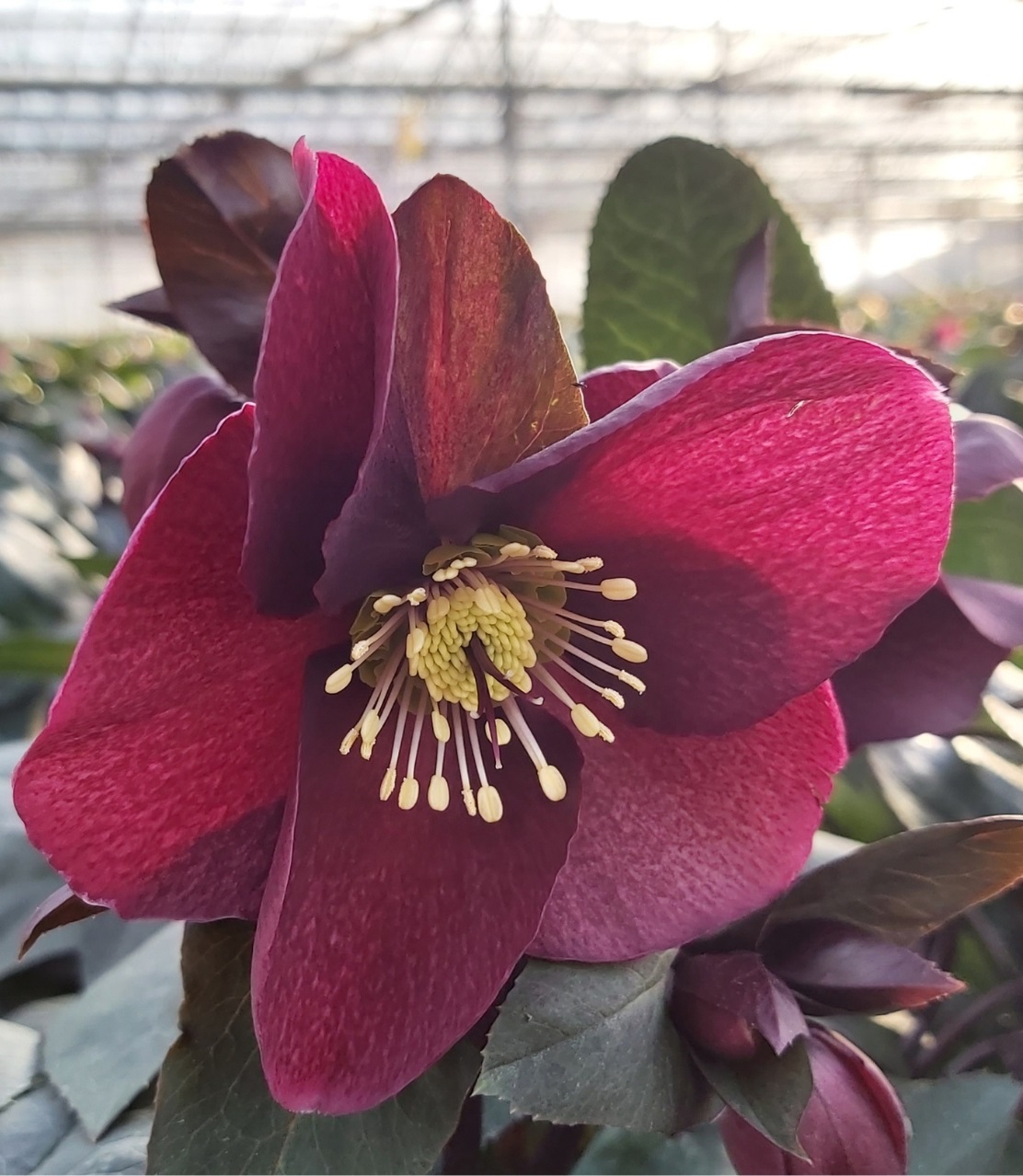 Helleborus Aarendelle
You might have seen them in our webshop again! Helleborus Aarendelle through the direct link to the Helleborus assortment of Sonneveld Hydrangea. Sonneveld grows Hydrangeas during the Summer season, and during the winter season they have some amazing Helleborus varieties. All the varieties that Sonneveld grows are of the Aarendelle series. These are known for their sturdy stems, big flowers, and long vase life. Sonneveld grows three of the Aarendelle lines: Sara, Bella, and Nora, and the shades range from pink to purple and dark red.
Sonneveld Hydrangea is a true family company, run by the brothers Piet, Henk, and Steve. Their grandfather started the company in 1927, and over the years they have changed from a vegetable grower to a grower of quality cut flowers. A few years ago the brothers came in contact with a German breeder who was developing a new series of cut Helleborus. Thinking that this would be an interesting flower to grow in the winter season, they decided to give it a try.
They put some of the Helleborus varieties in a small part of their greenhouse, and were quick to discover the cultivation of this flower is very natural, but not easy! A few years down the line, Sonneveld has mastered the cultivation of Helleborus and has expanded the amount of crops in their greenhouse.
The thee lines of Helleborus Aarendelle that Sonneveld grows, each have their own distinct features. The Bella produces large flowers on a thick unbranched stem, while the Sara produces multiple blooms on branched stems. Nora is known for their extra-long stems.
Helleborus grow best in colder temperatures. Therefore their production is rather sustainable, as there is no need for gas to warm the greenhouse. The flowers are cut by hand with a special knife that releases a drop of milk onto the plant to close off the wound. This protects the plants against diseases. After harvesting the flowers are placed into water with a bactericidal pre-treatment agent. This ensures the flowers' long vaselife. No flower food is needed!